The BCN3D factory offers a wide range of HotEnd optimized by E3D-Online for its Sigma R19 and Sigmax R19 printers,with independent double head (IDEX), to get the most out of all the impressions.
Many users would like to get the best finish in the shortest possible time. This is possible both in the Sigma R19, as in the Sigmax R19, thanks to the independent double extruder, by using a HotEnd of 0.3 mm or 0.4 mm for the outer walls and a HotEnd of 0.8 mm or 1 mm to make the filling. This combination is also favorable for 3D printing in which supports (PVA or HiPS) are needed, thus shortening the printing times if they are made with a HotEnd of 0.8mm or 1mm.
The available nozzle diameters are: 0.3 mm, 0.4 mm, 0.5 mm (Stainless Steel), 0.6 mm, 0.8 mm and 1 mm.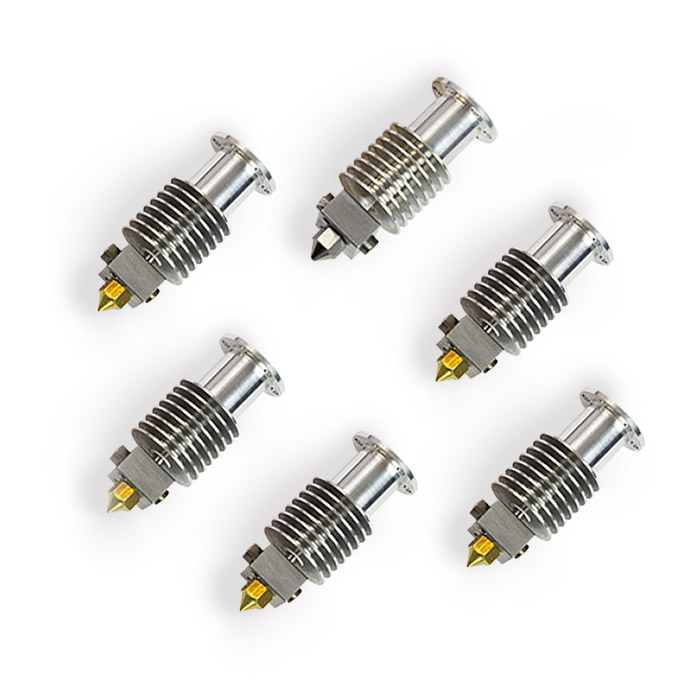 Image 1: HotEnds family. Source: BCN3D
The HotEnd with nozzle of 0.3 mm (High Quality) is ideal to get great finished parts, great detail and small size, especially when using common materials such as PLA. Another advantage that presents is the possibility of making sharp corners and small radii, something necessary to manufacture threads and spirals.
The HotEnd with a nozzle of 0.4 mm or 0.6 mm are the most common, versatile and used. With these diameters you can get quality finishes in acceptable printing times. A part are valid for all types of material, from the common (PLA and ABS), to technicians (PC and PC-Max) or those that contain fibers.
The HotEnd with a nozzle of 0.8 mm or 1 mm (High Flow) are the fastest. Thanks to its diameter and because it has a larger heating block than usual, thus providing greater heat transfer to the material, large pieces can be made in a shorter time interval. If the surface finish is important, you can use these nozzles for the filling in combination with smaller nozzles (0.3mm or 0.4mm) and thus get a good surface finish in record time. With the use of 0.8mm or 1mm nozzles we recommend that you use the larger purge tank, available to download and print in the following link.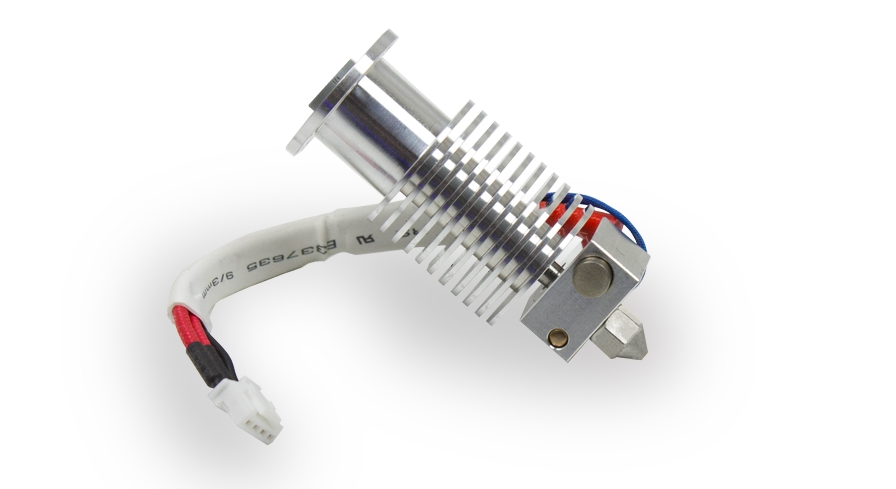 Image 2: HotEnd with stainless steel 0.5 mm nozzle. Source: BCN3D
To complete this range of HotEnds, BCN3D has a HotEnd with a nozzle of 0.5 mm Tempered Stainless Steel, an essential element for all users who are thinking of using materials with abrasive fibers, such as carbon fibers (PLA-Carbon Fiber or Nylon-Carbon fiber CF15) or metallic fibers (PLA-Conductive, PLA-Stainless Steel and PLA-Magnetic). The type of stainless steel has been carefully selected by BCN3D to achieve an extremely high hardness (50 HRC), enough to use all kinds of materials without showing wear. A part this HotEnd is also compatible with the rest of materials, making it the ideal choice for users who think about pushing your 3D printer Sigma or Sigmax to the limit.
You can easily identify the diameter of the nozzle according to the number of holes:
| Number of holes | Nozzle diameter |
| --- | --- |
| | 0.3 mm |
| | 0.4 mm |
| | 0.5 mm (stainless steel) |
| | 0.6 mm |
| | 0.8 mm |
| | 1 mm |
Table 1: Identification of the diameter of BCN3D nozzles according to number of holes
Regardless of the diameter of the HotEnd nozzle and the material used (brass or hardened stainless steel), the internal geometry is essential to ensure proper operation, free of jams and high performance. For this reason, BCN3D has maintained the proportions of the geometry of all its nozzles always combined with a HotEnd "full metal", with high quality materials and with a surface finish of the super smooth internal walls. The HotEnds of the R19 versions are manufactured under the quality standards of the great manufacturer of nozzles and components of 3D printers, E3D-Online. 
By being able to combine two nozzles of different diameter, the number of possibilities is very large and that is why BCN3D has the Sigma ProGen available to the public, where the user only has to select the diameter of the nozzles he has installed in his Sigma or Sigmax , the material you want to use in each extruder and you can download the print profile, both for Simplify 3D and for Cura 3D.
Thanks to all the above, it has never been so simple and efficient to make a double extrusion.