Filaflex is a TPE (Thermoplastic Elastomer) filament. TPE is also known as thermoplastic rubber. It is the result of the mixture of polymers, a plastic as a base and rubber as an alloy, resulting in a material with thermoplastic and elastomeric properties. The degree of critical crosslinking of the TPE molecular structure is the cause of the high level of elasticity, crosslinking produced by the dipole-dipole junction (hydrogen bridges or Vander Waals forces). But by heating this material it can be processed as a thermoplastic, making it easy to weld and reuse.
This material is much more economical and easier to shape than conventional silicones and rubbers, since, unlike those mentioned above, TPE does not require long production times or specialized facilities. Its application extends to an endless number of sectors, highlighting its use in construction (expansion joints or window insulation) and in the automotive industry (sleeves, dust covers, spring washers or anti-vibration parts).
In addition to being flexible, Filaflex is the most elastic filament on the market, reaching 650% stretch to break. Filaflex filament has great elasticity, a high coefficient of friction and great softness that make it a flexible material with excellent properties for 3D printing.

Image 1: 3D printed sneaker with Filaflex. Source: Recreus.
FilaFlex has excellent bonding properties with PLA, ABS, HiPS, Nylon and almost any 3D printing material. This allows the creation of composite pieces that combine hard and soft materials in a single impression. In addition FilaFlex filament is resistant to gasoline, solvents and acetone. FilaFlex is non-toxic but is not approved for medical or food use. It does not emit odors, it is totally odorless and it does not produce toxic gases.
Until now, the differentiation rule was established that showed that a TPE was always flexible, and a semi-flexible or rigid TPU. Currently, this differentiation has ceased to make sense due to the great development of variants in TPE and TPU materials, and there are very flexible TPE filaments (with Shore 70A, 82A and 90A hardnesses) and semi-flexible such as 96A.
Therefore, when defining what material is needed for an application with a material with some flexibility, it will be necessary to analyze the sum of two totally differentiated vectors from which the correct choice or resulting vector will result. On the one hand, the hardness of the material itself (normally compared on a Shore A scale) and, on the other hand, the type of material (TPE or TPU), with the differences regarding its intrinsic properties.
In the following table you can see the comparison between the different materials with some flexibility that exist in the market:
TPE 70A 
Filaflex
TPE 82A 
Filaflex
TPE 90A 
Flexfill
TPU 92A 
Flexfill
TPU 93A
Smartfil
TPE 96A 
Flexfill
TPU 98A 
Flexfill
Tensile strength
(MPa)
32
45
5
49
40
5
53.7
Elongation at break
900 %
600 %
250 %
-
-
150 %
318 %
Absorción 
humedad
-
Chemical resistance
Solvent Acetone
Fuel
Solvent Acetone
Fuel
Water
Acid
Alcohol
Alkali
Polish
Oil
Polish
Oil
Solvent
Water
Acid
Alcohol
Alkali 
Polish
Oil
Contact food and skin
Not recommend.
Not recommend.
Certificate
Not recommend.
Not recommend.
Reliable
Not recommend.
Permeability gases
-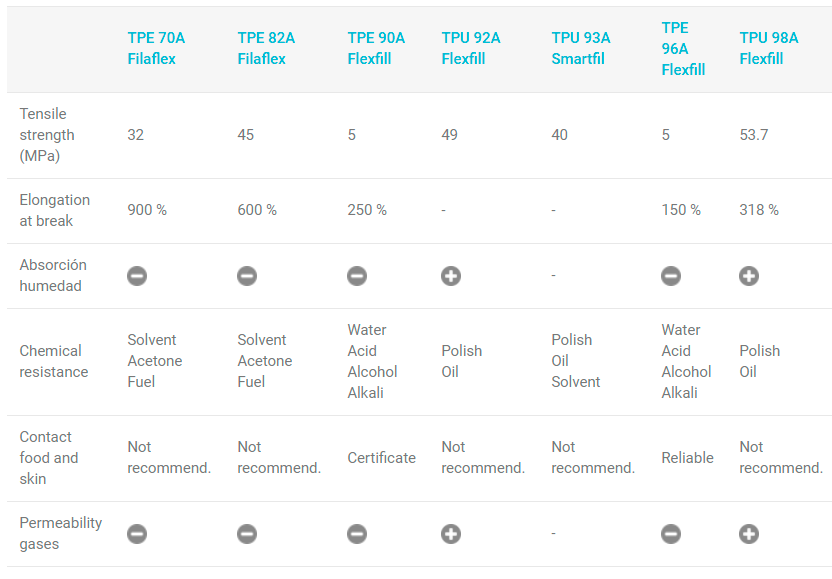 Table 1: Comparison of properties of the flexible filament range
Although it is true that Filaflex 82A is more complicated to print than a rigid filament, with the proper configuration it can be printed on almost any 3D printer. It is recommended to read the usage tips in detail to get the most out of Filaflex.