Filaflex UltraSoft 70A is one of the most elastic and softest filaments on the market, reaching a 900% stretch until breaking. The Filaflex UltraSoft filament is a TPE filament (Thermoplastic Elastomer) with a polyurethane base and certain additives.
The Filaflex Ultrasoft 70A filament has an even higher elasticity and smoothness than the Filaflex 82A (Filaflex), with a Shore 70A hardness and an abrasion resistance of 45mm3, being one of the most elastic and soft filaments on the market. Like the Filaflex, the Filaflex Ultrasoft 70A is resistant to solvents, acetone and fuels, but with lower tensile strength and lower softening temperature. The Filaflex UltraSoft 70A has good bonding properties with other types of materials used in the field of 3D printing, such as PLA, ABS, HiPS and some Nylons, resulting in composite pieces with different properties and hardness. Thanks to all the qualities mentioned above, this material has an infinity of applications in all types of fields
FilaFlex UltraSoft is non-toxic, but not approved for medical or nutritional use. This material doesn't emit odors, is totally odorless and does not produce toxic gases. Due to its high elasticity, it is a complex material to use, since, in certain types of extruders, it's likely to wrap around the pinion of the extruder motor or directly bend the filament already before entering the HotEnd, something that occurs if a Bowden drive system is used. Therefore, this material is recommended only for advanced users and with 3D printers with the Recreus Extruder v3 extruder or with an extruder prepared to print elastic filaments (Should always be direct drive, never bowden). The "Recreus Extruder v3" is a direct-drive extruder extruder with high quality components created by the manufacturer of the Filaflex UltraSoft 70A, to be able to use this and other flexible materials without any problems and at high speeds compared to the rest of extruders on the market . Another extruder compatible with this material, but not recommended by the manufacturer, is the E3D Titan Aero.
If you are looking for a flexible material, but at the same time with a certain resistance, you should choose the PLA Soft-Flexible or the Flexfill TPU. 
In the following table you can see the comparison between the different materials with some flexibility that exist in the market:
TPE 70A 
Filaflex
TPE 82A 
Filaflex
TPE 90A 
Flexfill
TPU 92A 
Flexfill
TPU 93A
Smartfil
TPE 96A 
Flexfill
TPU 98A 
Flexfill
Tensile strength
(MPa)
32
45
5
49
40
5
53.7
Elongation at break
900 %
600 %
250 %
-
-
150 %
318 %
Absorción 
humedad
-
Chemical resistance
Solvent Acetone
Fuel
Solvent Acetone
Fuel
Water
Acid
Alcohol
Alkali
Polish
Oil
Polish
Oil
Solvent
Water
Acid
Alcohol
Alkali 
Polish
Oil
Contact food and skin
Not recommend.
Not recommend.
Certificate
Not recommend.
Not recommend.
Reliable
Not recommend.
Permeability gases
-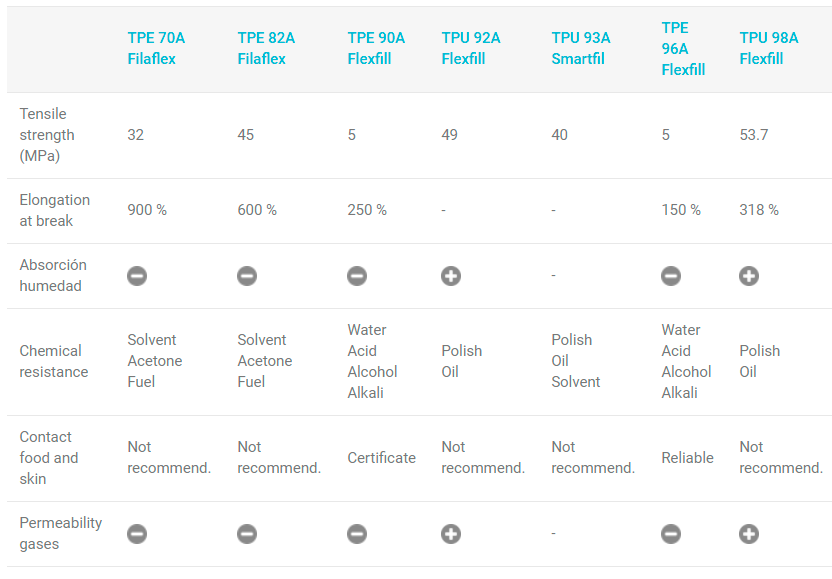 Table 1: Comparison of properties of the flexible filament range