The Soft-Flexible PLA filament is a flexible filament with durable rubber properties. It is useful for making parts that need to be flexible, not to break when bent (resistant) and also to be durable.
Standard PLA (polylactic acid) is a biodegradable plastic obtained from natural resources, in particular from starch extracted from corn, beet and wheat. This material is one of the most widely used materials in 3D printing today because it does not give off harmful gases and is easy to print on. The ease of use of this material derives from different factors:
It does not require a warm bed, although if available, it is recommended to use it at about 60 ºC.
It is generally printed at low temperatures (between 190ºC and 220ºC).
It is a material with almost no warping (warping is the deformation of the pieces with respect to the base).
Standard PLA is very rigid and does not bend well, while Soft-Flexible PLA is flexible; its texture is reminiscent of rubber and has a Shore hardness of 92A. It is an impact resistant material and suitable for many industrial and domestic applications such as: tyre, machine parts - mechanical elements that must withstand force - or children's toys.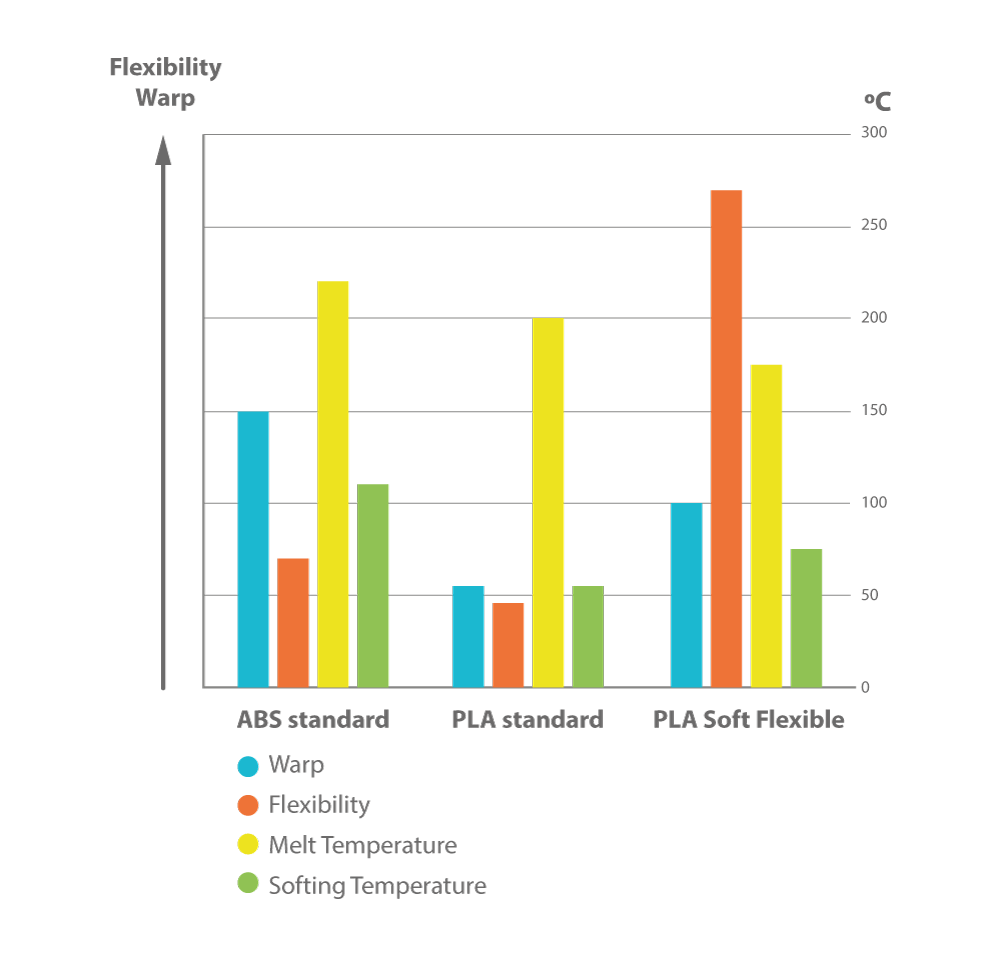 Soft-Flexible PLA is one of the most widely used materials for flexible parts. The main difference between Soft-Flexible PLA and other flexible filaments is its known strength and durability, as well as the ease of printing even with Bowden-type extrusion systems. Soft-Flexible PLA is printed in a similar way to standard PLA, although it must be printed at a lower speed than using standard PLA to obtain good results; as well as using a higher bed temperature.
The following table shows a comparison of Soft-Flexible PLA with other flexible filaments:
TPE 70A 
Filaflex
TPE 82A 
Filaflex
TPE 90A 
Flexfill
 PLA Soft
TPU 93A
Smartfil
TPE 96A 
Flexfill
TPU 98A 
Flexfill
Tensile strength
(MPa)
32
45
5
17
40
5
53.7
Elongation at break
900 %
600 %
250 %
300 %
-
150 %
318 %
Absorción 
humedad
-
Chemical resistance
Solvent Acetone
Fuel
Solvent Acetone
Fuel
Water
Acid
Alcohol
Alkali
-
Polish
Oil
Solvent
Water
Acid
Alcohol
Alkali 
Polish
Oil
Contact food and skin
Not recommend.
Not recommend.
Certificate
Reliable.
Not recommend.
Reliable
Not recommend.
Permeability gases
-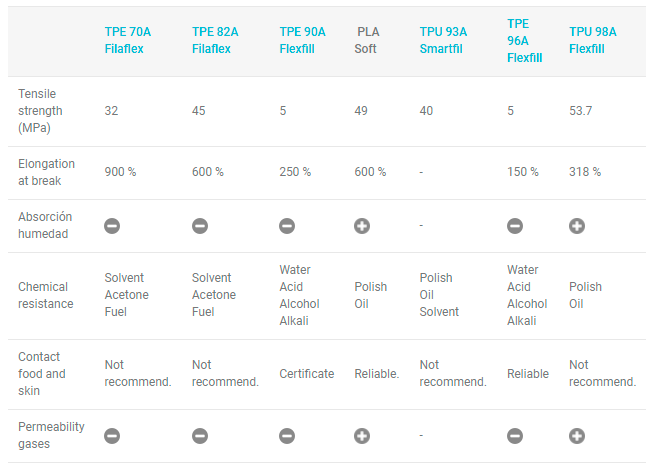 Table 1: Comparison of properties of the flexible filament range
Like standard PLA, Soft-Flexible PLA filament is a bioplastic made from renewable resources such as corn. It is a biodegradable material and its carbon footprint is much smaller than that of other traditional 3D printing materials.
In addition, Soft-Flexible PLA does not contain any hazardous chemicals. It is a material suitable for human skin contact and food contact; meeting all the requirements of the European Union Regulation on Food Contact and the US Food and Drug Administration (FDA). In addition, this filament is RoHs certified and Reach compliant.