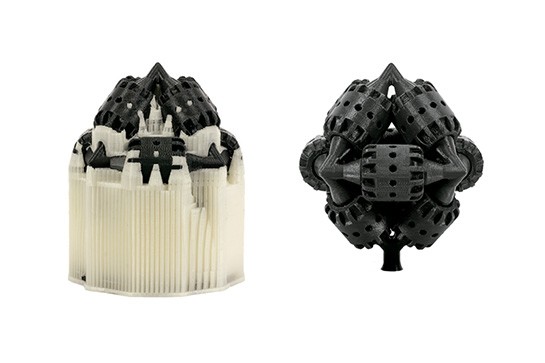 One of the main limitations of FFF 3D printing compared to other additive manufacturing technologies is the need for the printed area of each layer to be supported by a previous printed layer. This means that any part of the part with an overhang greater than 45º or any bridge longer than 10mm requires support structures.
On single extruder FFF 3D printers, the only option for generating support structures is to use the same print material as the part. These supports must be removed mechanically after printing is complete, and various strategies are employed to facilitate this, such as making these supports with low-density structures and leaving a separation layer between the support and the part. This allows the supports to be removed manually without the use of tools, although the surface finishes of the surfaces in contact with the supports are often poorly finished.

Image 1: Supports on 3D printed parts. Source: 3DHubs
On FFF 3D printers with dual extruders, the range of options expands, as it is not necessary to use the same material for the part and for the supports. This opens the door to using materials that are soluble in solvents that do not dissolve the material of the part. This makes it possible to use dense supports in contact with the workpiece that guarantee an excellent finish on the contact surface.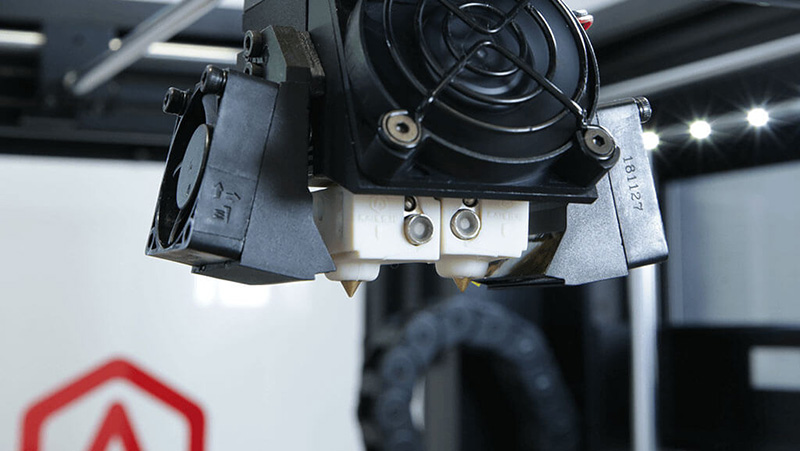 Image 2: Raise3D Pro2 dual extruder. Source: Raise3D
There are many different soluble support filaments available, but they are not all the same, nor do they all have the same compatibility. When selecting a soluble carrier material, it is important to consider a number of characteristics to ensure compatibility with the printing material used. These characteristics are:
It must be soluble in a solvent that will not damage or impair the properties of the material used in the part.

It must be thermally compatible with the filament of the part, so it must have similar printing and base temperatures, as well as similar softening temperatures.
It must have good adhesion with the material used in the part.
It must be easily printable and have good adhesion between layers.
There are currently three main types of soluble support materials:
SOLUBLE FILAMENTS IN ORGANIC SOLVENTS.
These are materials with similar properties to the material used in the part but which can be dissolved in a solvent that does not attack or dissolve the material that they complement.
There are currently not many options for this type of filament, mainly due to two problems: on the one hand, materials with similar physicochemical properties that make them compatible with each other also generally behave in a similar way with most solvents, making it difficult to find a suitable solvent. On the other hand, many of these organic solvents are highly toxic or not accessible to most users and require specialised waste treatment.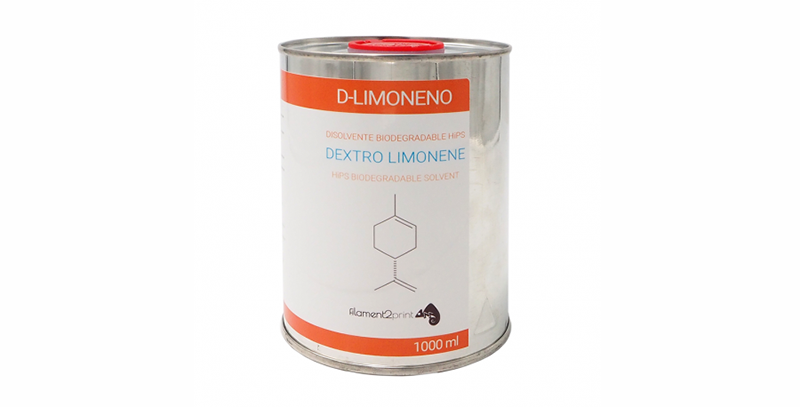 Image 3: D-Limoneno. Source: Filament2print
The most commonly used filament of this type is HIPS, whose properties make it compatible with most ABS and ASA-based materials. In addition to having similar thermal properties, it has good adhesion to ABS and ASA. It is currently one of the most widely used support materials, not only because of its compatibility with ABS, but also because of its low cost and because it is soluble in D-Limonene, an accessible, inexpensive and low-toxicity organic solvent.
WATER-SOLUBLE FILAMENTS THROUGH THE USE OF AN ACTIVATOR.
These are ATP-based polymers (acrylate terpolymers). These materials have the characteristic of being soluble in alkaline solutions. They have excellent compatibility with ABS and ASA based materials, and can also be used with polycarbonate (although their compatibility is somewhat lower).
They are not directly soluble in water, as they require water to have an alkaline pH, so the use of a buffer activator, such as 3DWash, is necessary.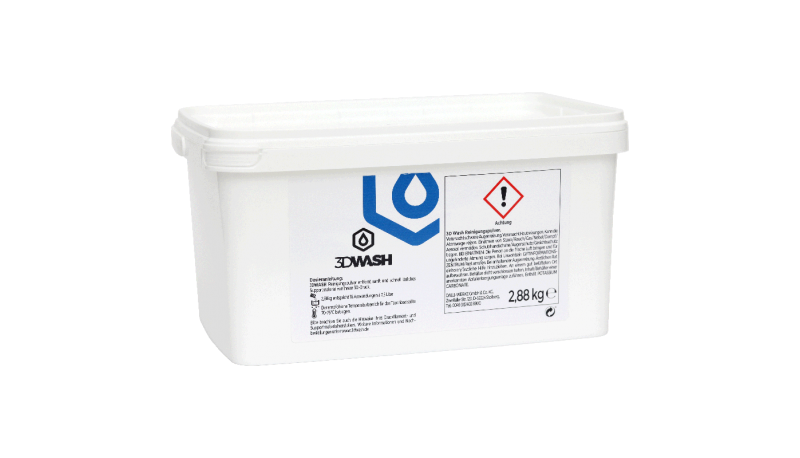 Image 4: 3DWash. Source: Traxer
They are a perfect alternative to HIPS, not only because they do not require the use of organic solvents, but also because they are filaments developed and additivated specifically for use as support material, so they generally dissolve more quickly and leave less residue on the part.
Video 1: Video presentation of PolyDissolve S2. Source:Polymaker
Some representative filaments are PolyDissolve S2 and Z-SUPPORT ATP.
WATER-SOLUBLE FILAMENTS
One of the main objectives of manufacturers has been to obtain support filaments soluble directly in water. This is because it does not require organic solvents or alkaline solutions, making it the safest and most accessible alternative for most users.
This is why it is the category with the widest variety of different materials, and with options compatible with a wide range of filaments.
Within the water-soluble filaments, two types can be distinguished:
Water soluble filaments compatible with low temperature materials: These are filaments based on PVA (polyvinyl alcohol) or BVOH (butenediol vinyl alcohol). Both materials have excellent compatibility with PLA and can be used with PA (although their compatibility is not as good). BVOH can be considered as an evolution of PVA and has a number of advantages over PVA, such as better compatibility with PETG or even with some flexible filaments and a higher dissolution rate in cold water. Some PVA filaments are LAY-PVA or PVA Raise, while Mowiflex or Z-SUPPORT Premium are based on BVOH.
Video 2: Comparison between PVA and BVOH. Source: BCN3D
Water-soluble filaments compatible with high-temperature materials: These are the most advanced support filaments currently available. They are made up of a material composed of a blend of a water-soluble polymer (similar to the previous ones) and a sugar, generally trehalose, a polysaccharide that is rapidly soluble in water and with high thermal stability. The proportion between polymer and sugar, together with the use of certain additives specific to each manufacturer, makes it possible to obtain different formulations of water-soluble materials that are compatible with materials in a wide range of temperatures, from ABS to PEEK or ULTEM.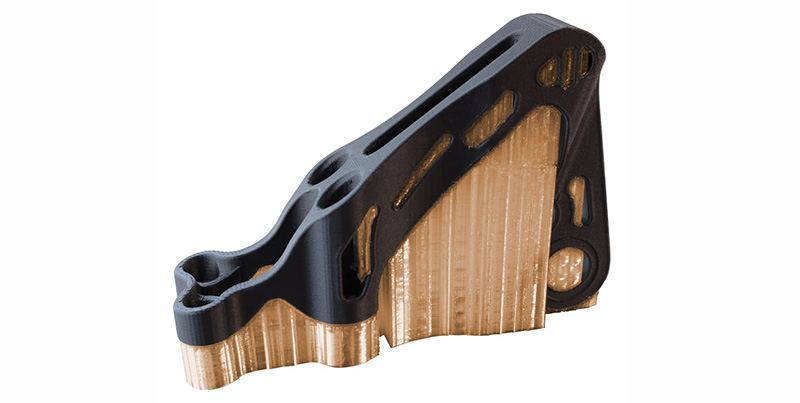 Image 5: PA-CF part with supports made of Aquatek X1. Source: 3DXTech
Some filaments such as Aquasys 120 or Aquatek X1 are compatible with PLA as well as ABS, ASA, PA, PETG or certain flexible filaments. Aquasys 120 can also be used with PC or PP. In addition, both materials can withstand chamber temperatures of up to 120°C and are therefore also suitable for use in industrial printers.
One step above is Aquasys 180, probably the most advanced and most compatible support material available today. As well as being compatible with the same materials as Aquasys 120, it can be used with PEKK, PEEK, ULTEM and PPSU as it can withstand chamber temperatures of up to 180°C.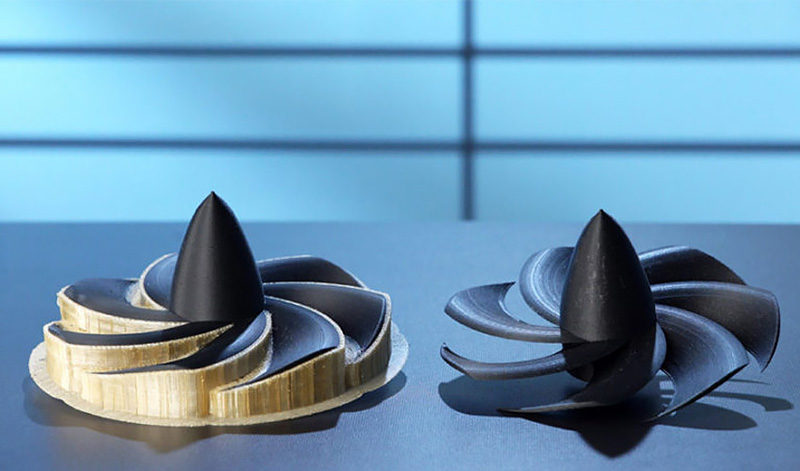 Image 6: Part with supports manufactured in Aqusys 180. Source: Infinite Material Solutions
However, the main advantage of this type of filaments (their high solubility in water) is also their main disadvantage, as they are highly sensitive to environmental humidity. This makes it necessary to keep these filaments in special containers, both during storage and use. Moreover, as these filaments absorb moisture, their adhesion worsens and the risk of clogging increases.
HOW TO CHOOSE THE MOST SUITABLE SOLUBLE FILAMENT.
When selecting the most suitable soluble filament, it is necessary to analyse the material to be complemented.
ABS/ASA: In general it is advisable to avoid the use of HIPS as it involves the handling of organic solvents and generates waste that cannot be disposed of directly. In this case, water-soluble ATP filaments with the use of an activator are the most recommended option. They have excellent compatibility with these materials and have a low sensitivity to moisture, making them easier to store and use, as well as minimising the risk of printing failure.
PLA: The materials with the best compatibility with PLA are those based on PVA and BVOH. Within these, BVOH-based materials are less sensitive to moisture, although in general PVA-based materials are slightly cheaper.

PETG/PA: Although it is possible to use PVA and BVOH as support material with PETG and PA, their compatibility is not particularly good. In this case, the best option is water-soluble filaments compatible with high temperature materials such as Aquasys 120.
Flexibles: Compatibility between support and flexible materials has never been particularly good. It is possible to use BVOH or materials such as Aquasys 120 with some flexible filaments, however it will be necessary to test each flexible filament to verify compatibility.
PEEK/PEKKK/PEI/PPSU: In this case the best option is to use Aquasys 180, as it is the material that guarantees the best compatibility with this type of material and has the best thermal stability at high temperatures.
If you usually use soluble supports with different materials, the ideal option is to use a single material that is compatible with all materials, such as Aquasys 120 or Aquatek X1, rather than having a different one for each material.
Although soluble filaments are often referred to as a single group, they actually consist of different materials, with their own very specific characteristics. Nowadays it is possible to find high quality soluble filaments compatible with almost any material on the market, from PLA to PEEK.