The PLA 3D870 is a material that presents a high general characteristics, comparable to ABS and in some aspect even superior, but maintaining the facility to be printed that has a conventional PLA.
The PLA 3D870 is based on the material developed by NatureWorks Ingeo, one of the most powerful PLA and most used in the world for 3D printing. This PLA stands out above others for having a softening temperature similar to ABS, for the high resistance to impact and for the increase of its mechanical properties when tempered. Tempering is a process that is carried out after performing 3D printing, in which the transformation of the molecular structure of the PLA from amorphous to crystalline takes place. In an amorphous state, the material has a disordered and irregular structure which can cause a series of weak points prone to generate failures and breakages. On the other hand, in a crystalline state, the PLA 3D870 is recomposed in a more ordered way, obtaining a more stable and smoother material at a microscopic level. This crystalline molecular form also helps the material to achieve a very high resistance to impact compared to the rest of PLA and much higher than that of ABS, thus being a suitable material for certain parts of industrial application.
The technique of tempering is usually not very effective in many plastics, in most causes a decrease in physical, mechanical or directly melting properties, but the PLA 3D870 does not happen that. After tempering the softening temperature, which is one of the weak points of the PLA because it has a low value (≈55ºC), increases to 85ºC, becoming a temperature very close to that of ABS. Another property that greatly increases its value, is the impact resistance, being double that in amorphous state and 5 times more resistant than ABS. In the following graphs PLA 3D870 is compared with l ABS and a conventional PLA in both amorphous and crystalline states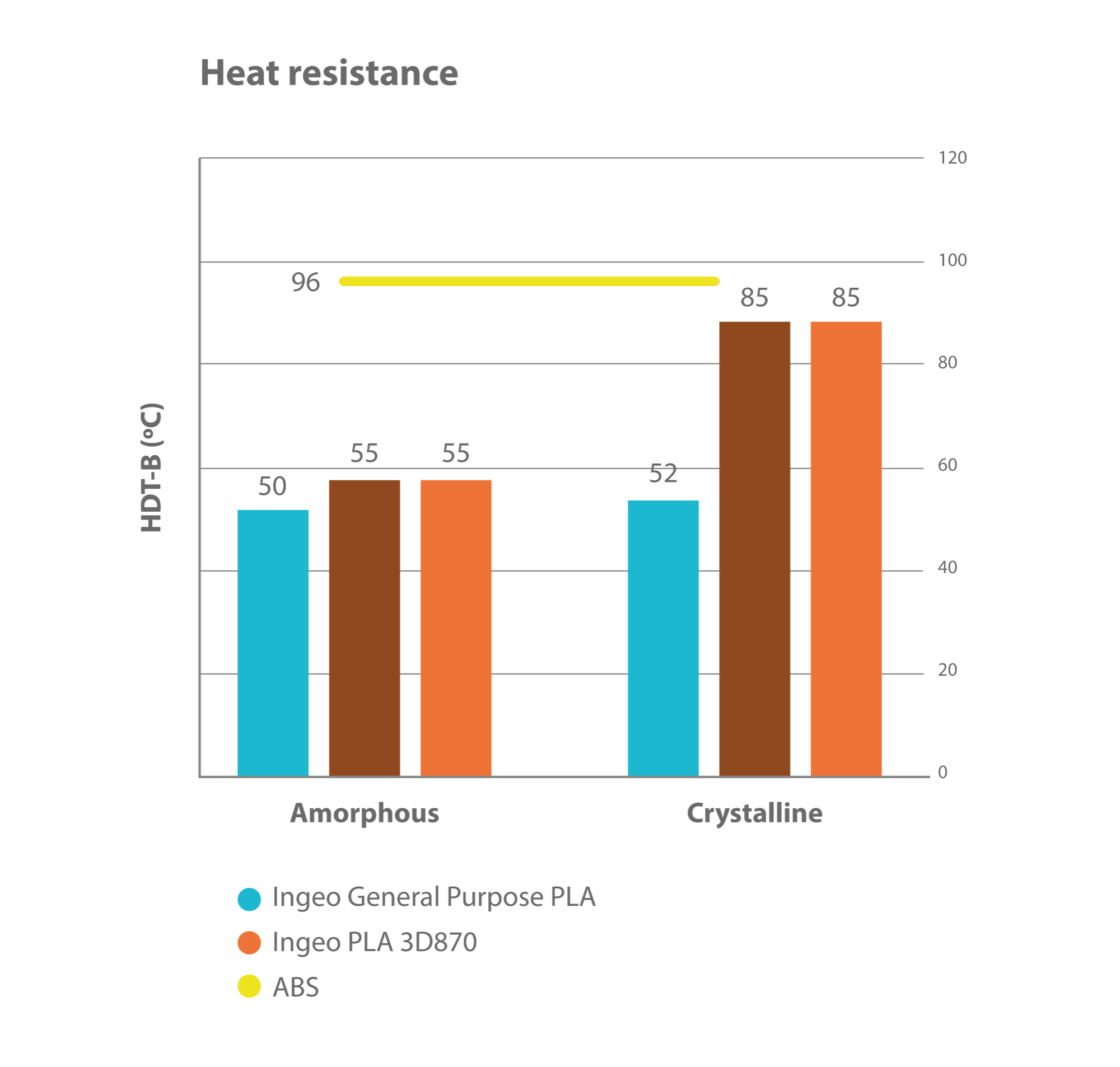 Image 1: HR-PLA 3D870 Heat Resistance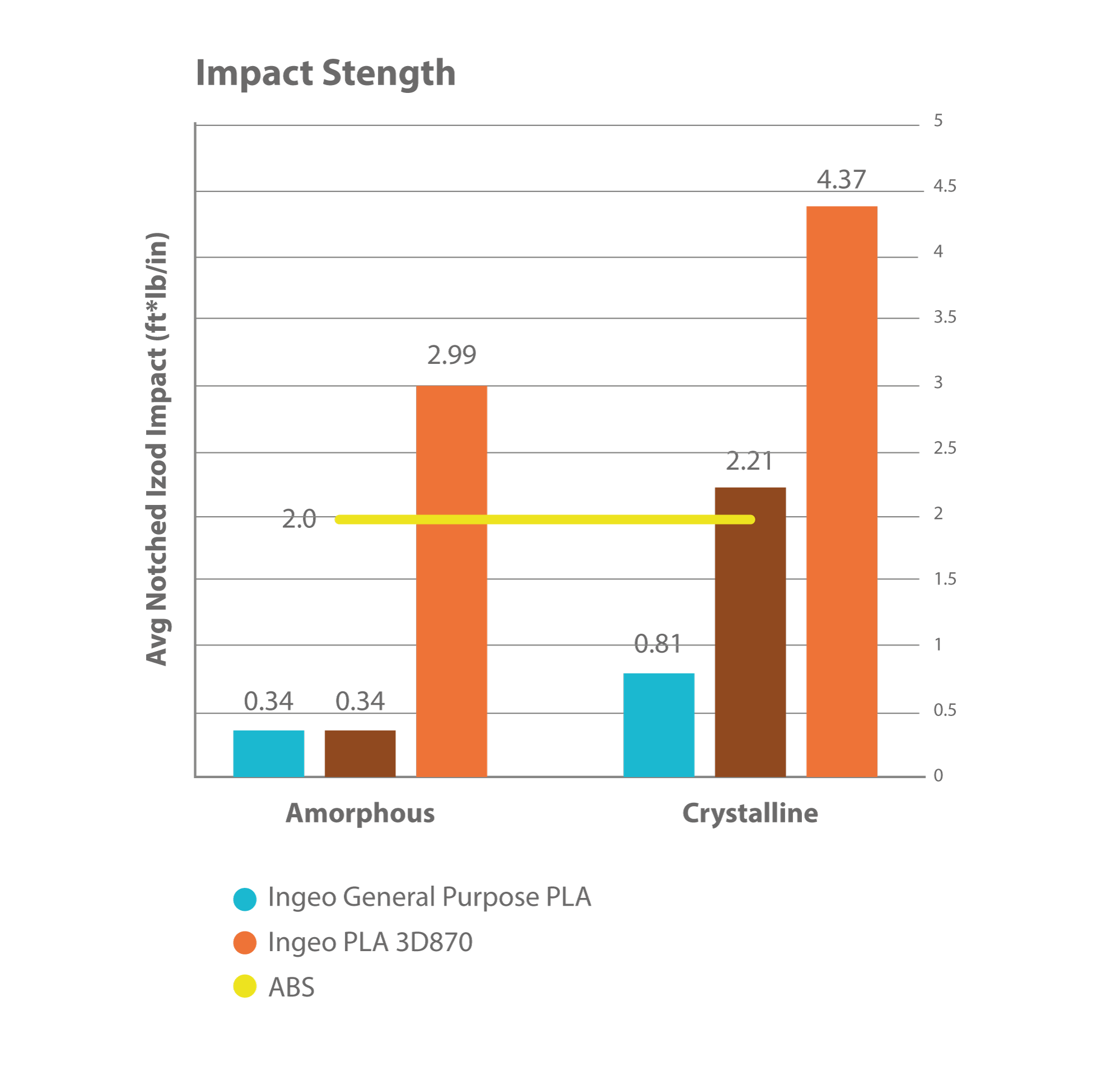 Image 2: HR-PLA 3D870 Impact Strength
The tempering necessary to strengthen this material is carried out in a simple way with any domestic furnace, no oven, apparatus or special or professional tool is necessary to do this post-processing. All the steps to execute this process are explained in the section of usage tips.
A major of all the above mentioned, the PLA 3D870 has another advantage in relation to its tonality, is resistant to the loss of color before UV rays and to become yellowish with the passage of time. Until the appearance of this material only the ASA maintained its tonality before the UV ray.
Can´t drill, paint or sanding as the ABS but is a more stable and easier to print plastic this. If you wish to obtain special surface finishes in HR-PLA 3D870 (1,75mm or 2,85mm) use coating designed specifically for 3D printing you'll find in the accessories category called XTC-3D. For higher yields of 3D printing is advisable to cover the bed of the printer with Magigoo, Blue Tape, BuildTak, or 3DLac you can find in the store fixtures.
Like all PLA plastics, the PLA 3D870 is a biodegradable material obtained from natural resources, specifically obtained from the starch extracted from corn, beet and wheat.
As a final conclusion, the PLA 3D870 is one of the most powerful materials for all types of users of 3D printers, both for its mechanical characteristics and the ease of printing it presents.