Steel bases with PEI surface are original Prusa consumables compatible with Prusa I3MK3S and Prusa Mini 3D printers.
Both the Prusa I3MK3S and Prusa Mini have a magnetic heated bed that supports a steel base with PEI surface, which facilitates adhesion between the bed and the part, preventing the part from peeling off.
There is a choice of two types of base: PEI smooth and PEI powder coated textured. Both bases are coated with Ultem PEI (polyetherimide). The difference between the two bases is that the textured base is coated with PEI powder baked directly on the surface, while the smooth base is glued to the foil like a sticker. It is possible to use both bases to print with any material as long as it is used correctly. There are different colours of steel base, however, they all contain the same properties despite the colour variations.
In the case of the Prusa I3MK3S, it comes with the textured PEI base by default, while the Prusa Mini comes with the smooth PEI base by default.
Smooth PEI base
This base is made of spring steel with double-sided smooth PEI. It is the best PLA printing solution and has a great adhesion with almost all materials. The bottom of the 3D prints has a smooth finish.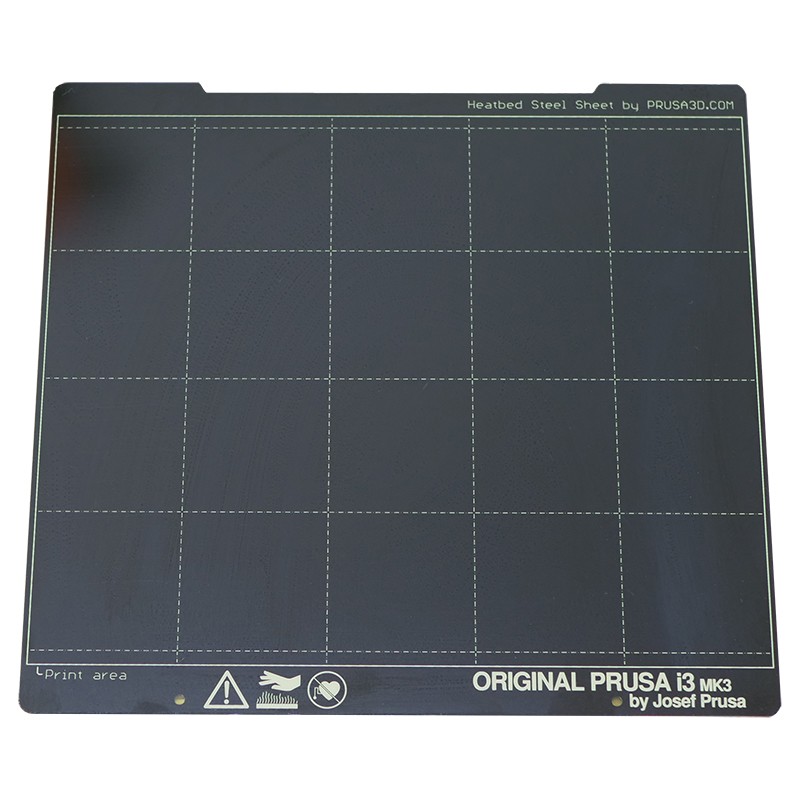 Image 1: Smooth base
The color of the smooth PEI base may differ from the product image (may be black, gold, green...), but in any case its properties are exactly the same regardless of the color.
Textured PEI base
Powder coating directly on the metal makes it very difficult to damage this base. If the nozzle grazes with the base, it does not wear out, but the top coating of dust (bulges) wears out. This coating also attributes a rough appearance to the bottom face of 3D prints that is in contact with the base of the 3D printer.
Image 2: Textured base