Filamet™ copper from The Virtual Foundry (TVF) is an innovative filament composed of 90% metal and the rest by PLA. The Virtual Foundry is an American company formed by great experts in the sector of molten metal, which have been constantly working since 2014 to improve and grow its range of filaments and accessories for 3D FDM metal printing. Its products are oriented to solve and simplify problems through innovative metallic materials for 3D FDM printers of any kind.
Image 1: Ships made from unsintered copper, after debinding and finally sintering. Source: The Virtual Foundry
Copper was one of the first metals used in prehistory to be easily found in nature and easy to work. It is characterized by its reddish color, its brightness, but above all, for being one of the best conductors of electricity, being a value so high that it has been assigned as the maximum value of the electrical conductivity reference (IACS). Copper shows great ductility and malleability, ease of lamination and forging, and even ease of being welded. This metal is used in electrical conductivity applications (wiring, electrical equipment or integrated circuits), dissipative and corrosion resistant elements (brakes, bearings or catenaries), water transport products (pipes) and formerly for the manufacture of elements decorative and coins. Given the infinity of applications in which copper is present, it is not surprising that it is the third most consumed metal worldwide.
The Virtual Foundry has been the pioneer in developing metallic filaments for 3D printing after many years of research and development. The great competitive advantage developed is that to obtain the pure metal parts it is only necessary to print the piece and sinter it in an oven. Other manufacturers that have tried to develop metallic filaments need to do one more process (prior to sintering in the furnace) which is the debinding that consists of a chemical process to separate the binder polymers from the metal. Therefore, it can be concluded that The Virtual Foundry is the pioneer and the benchmark in 3D metal FDM printing, obtaining a fairly simple process with results never seen so far in the world of metal fabrication.
Currently, a large list of industry sectors are using The Virtual Foundry filaments: 3D printer manufacturers, biomedical innovation, jet engine development, radiation shielding, space exploration, nuclear energy, dental, artists or fashion design. A remarkable application is the manufacture of a drill with internal hot water heating, for drilling in the Antarctic. With the Filamet™ copper it has been manufactured, very easily and at a low cost, a drill with an internal structure extremely difficult to machine or mold has been manufactured very easily and at a low cost. Another notable application is the printing of containers for radiation shielding with tungsten Filamet™. These types of containers are used to transport reactive medicines without having to resort to lead containers (toxic). Thanks to the density of tungsten, 1.6 higher than lead, this filament is ideal for creating any type of replacement part made from lead.
Filamet™ copper is a filament formed by base metal and a biodegradable and ecological polymer (PLA). This material is free of exposed metal particles and volatile solvents that can be released during printing. Formed by 90% copper and the rest by PLA, this material is extremely simple to print, since its printing properties are similar to those of the PLA, which allows any user of a FDM 3D printer create parts with this filament, without the need to buy expensive industrial 3D FDM metal printers. With Filamet™ copper properties similar to those possible with DMLS technology are achieved but with certain limitations. Due to the need to sinter the printed pieces with this filament, where the PLA is removed, the pieces have porosity, loss of volume and non-isotropy. DMLS 3D printers manage to print totally solid parts (similar to the foundry), in great detail, layer heights of 0.02 mm and without the need for post-processing, the only disadvantage compared to Filamet™ 3D FDM printing the cost of: material, manufacturing and the printers themselves.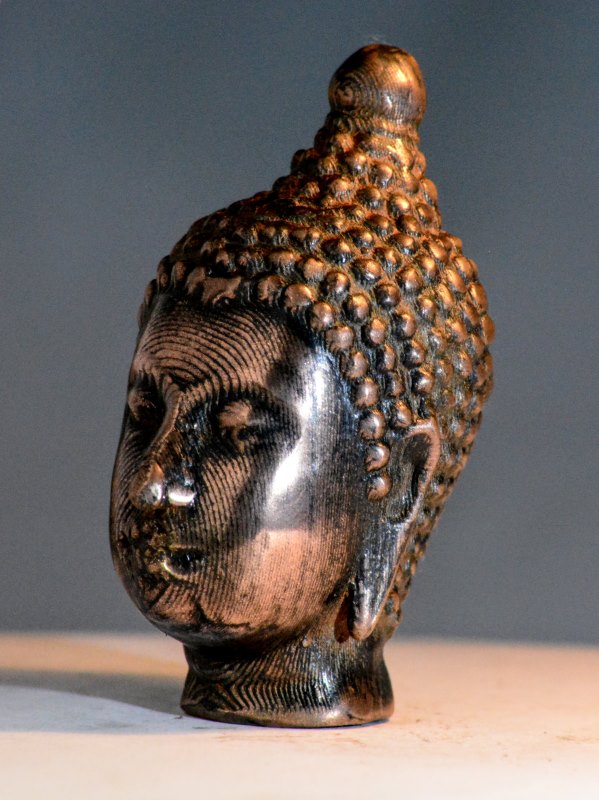 Image 2: Model manufactured with Filamet™ copper and sintered. Source: The Virtual Foundry
Due to its large metal content (90%), it is necessary to place the filament inlet as aligned as possible with the extruder and use FilaWarmer, a heater through which the filament is introduced to eliminate its curvature and that way the least possible friction occurs in the extruder and HotEnd. Once a piece is printed, it is necessary to carry out the sintering process, in an open environment or in a vacuum or inert environment, to eliminate the polymer (PLA), taking into account that sintering values must be adjusted depending on the geometry and oven model. The product that is obtained is totally metallic, with the real properties of the metal as electrical conductivity, post-processed by sanding and polishing or even welding union; but with a certain porosity and a reduction in volume due to the loss of PLA. To know more about the whole process of printing, sintering and post-processing you should visit the "Tips for Use" section.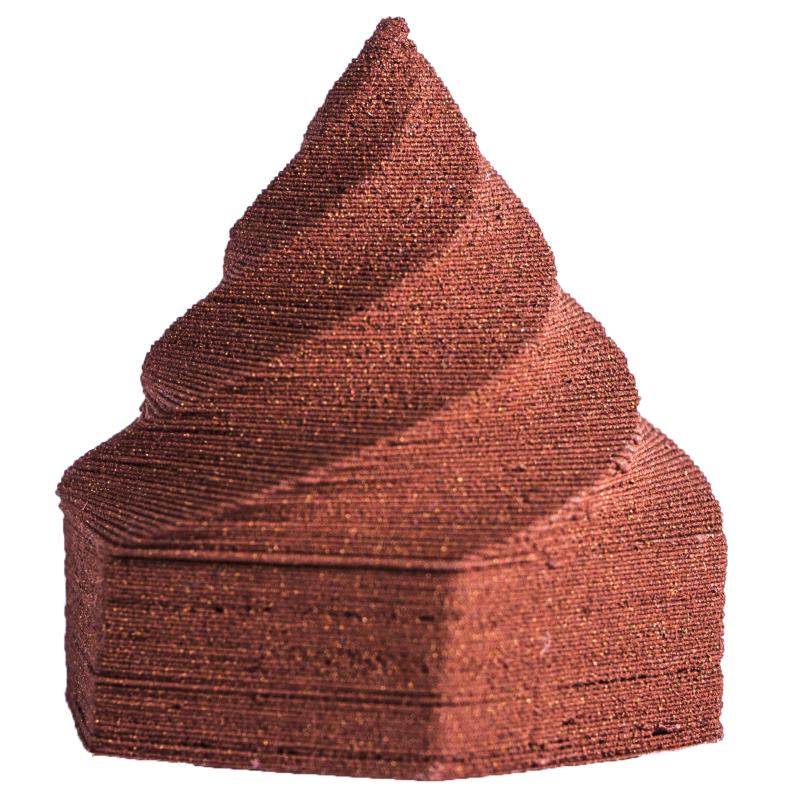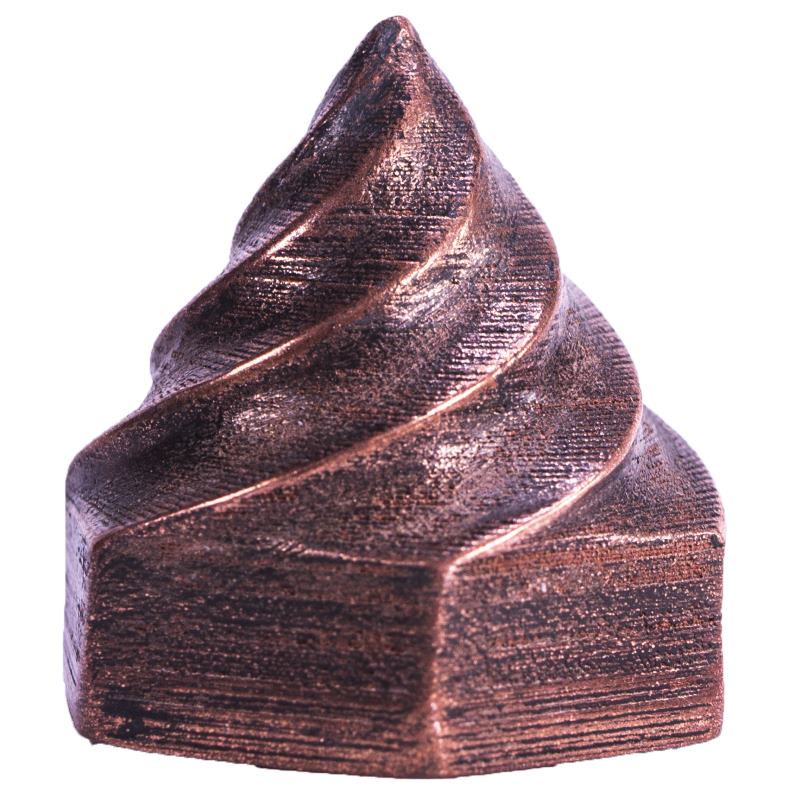 Image 3: Cones made of no sintered and sintered copper Filamet™. Source: The Virtual Foundry
Users who do not have an kiln with the necessary properties to sinter the printed parts with the Filamet™ copper and get the final properties of this metal, can contact us and we will assess its viability through our collaborators with ability to perform the post-processing necessary to obtain the desired final result.