Copper3D is a Chilean company born by the union of engineers, physiotherapists and doctors to solve the skin problems suffered by patients using prostheses. More than 40% of amputees and also many other patients who use prostheses, suffer some dermal disorder due to the high bacterial load that these medical products present in contact with the skin, which lead to dermatitis, folliculitis, fungal infections and more. This problem is due to the fact that the materials used in medical devices are difficult to keep clean and sterilized. To cover this cadence, Copper3D has developed new polymers for 3D printing with an additive containing copper nanoparticles, highly effective to eliminate fungi, viruses and bacteria, but safe for humans at the correct concentrations.
MD1 Flex is an innovative nanocomposite developed with a high-quality TPU98A and a patented nano-copper additive, scientifically validated and highly effective. This unique combination of technologies brings the following characteristics to this innovative filament:
The antibacterial action manages to eliminate 99.9% of fungi, viruses and a wide range of microorganisms.
Excellent results have been achieved in prostheses for amputees, medical applications where elimination of bacteria is essential, such as postoperative prostheses, surgical equipment and other applications. 
The nanoadditive maintains all the mechanical properties of the TPU98A material, such as its hardness and flexibility, high heat resistance (138 °C), 450 % elongation at break and easy printing at speeds higher than 75 mm/s.
This filament is respectful with the environment and does not produce toxic waste.
To show the world the power of MD1 Flex, Copper3D has sent samples of its product to two microbiology laboratories. Both institutions confirm that the Colony Formation Units (CFU) of Staphylococcus aureus MRSA and Escherichiacoli DH5 α, drop drastically during the first 6 hours of exposure to the MD1 Flex (> 95%), also eliminating bacterial strains up to 98% in the 8 first hours and 99.99% after 24 hours. The antibacterial power of MD1 Flex is clearly shown in the following graph.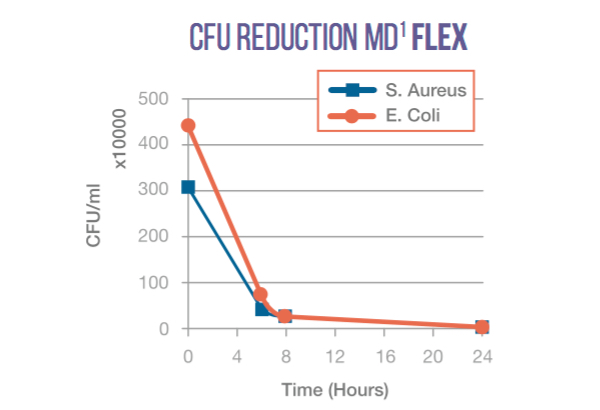 Image 1: Graphic of bacterial reduction. Source: Copper3D
The advanced antibacterial properties of the MD1 Flex make it, like the PLACTIVE AN1, ideal for applications throughout the medical ecosystem: patients, hospitals, doctors, universities, etc. As an example of a sanitary application, the manufacturer Copper3D has published the design of a mask for 3D FDM printing.