Adventurer 3 is one of the FDM 3D printer models developed and manufactured by Flashforge. Flashforge is known for manufacturing quality 3D printing equipment and materials for both home and professional use.
Adventurer 3 is a home 3D printer with a minimalist design that includes a closed chamber. Its printing volume is 150 x 150 x 150 mm and its extruder can reach 200 ºC in less than a minute. This equipment also has a heated bed that reaches 100 ºC.
Video 1: Flashforge Adventurer 3. Source: Flashforge.
The Adventurer 3's structure is compact and lightweight, so transporting it is not a problem. This is perfect for homes and other places where the equipment needs to be stored after use due to lack of space. 
Ease of use
One of the most outstanding features of this 3D printer is its ease of use. The user-friendly interface design and powerful functions make this printer very easy to use and allow even novice users to achieve great results.
Some of the features that facilitate the use of this 3D printer are the following:
User-friendly interface: The 2.8 inch colour touch screen makes every action visible. In addition, the user can follow the printing status in real time.
Automatic filament feeding: Adventurer 3 features automatic filament loading/unloading options that allow the printer itself to carry out this process when these options are selected.
Quick nozzle change: Thanks to the hotend design, the nozzle can be changed quickly and easily in just three steps.
Flexible printing surface: Adventurer3 is equipped with a removable, flexible printing surface that allows for easy removal of 3D printed parts without the risk of damaging the surface or the printed part.
Automatic levelling: The process of levelling the printing surface is one of the most important steps in achieving high quality prints. Automatic levelling ensures optimal levelling for every print.

Image 1: Ease-of-use features of Adventurer 3 Source: Flashforge.
Advanced features
The Flashforge Adventurer 3 3D printer is packed with advanced features found in professional 3D printers. These include:
Integrated camera: The Adventurer 3 has an integrated internal camera that, together with FlashCloud software, allows the 3D printing process to be monitored remotely.
Compatibility with a wide range of materials: Thanks to its closed chamber, heated bed and maximum extrusion temperature, the Adventurer 3 can print materials such as ABS, a material widely used in both domestic and industrial applications.
High quality 3D printing: This 3D printer has an accuracy of ±0.2 mm, enabling the production of parts with high quality surface finishes.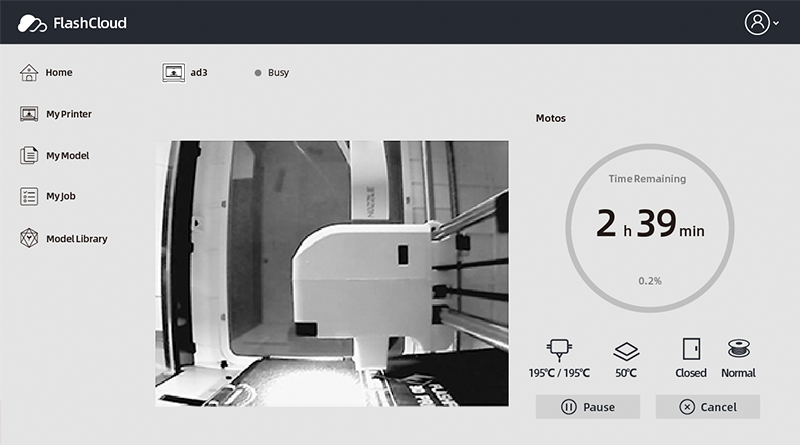 Image 2: Adventurer 3's integrated camera: Flashforge.
Educational environments
This 3D printer model is ideal for use in educational environments. Adventurer 3 is a device with which students can carry out a multitude of projects, making it very useful for introducing students to the digital world and encouraging their interests.
The manufacture of three-dimensional pieces can be very useful for understanding concepts in different areas, allowing the student to see a replica of the object to be studied. This can be very useful when it comes to establishing concepts of anatomy, biology or chemistry, among others.
The inclusion of a 3D printer can be carried out at any educational stage, as the degree of difficulty can be adapted to the students' knowledge.
Due to its features and its great value for money, this 3D printer is perfect for family use or as 3D printing equipment in educational centres.