ColorFabb, based in the Netherlands, develops and produces filaments for FDM/FFF 3D printing. Through its research, it has improved standard products and developed new products such as LW-ASA, LW-PLA and TPU Varioshore.
LW-PLA is a filament for FDM/FFF 3D printers with an innovative property compared to other 3D printing filaments. This filament, when extruded, can increase its volume up to almost 3 times and reduce its weight up to 65% by varying the density.

Image 1: Comparison of the weight of parts printed with standard PLA and LW-PLA. Source: Colorfabb.
This ColorFabb filament is based on PLA (polylactic acid), a biodegradable polymer obtained from natural resources, such as starch extracted from corn, beets and wheat. With standard PLA it is possible to obtain shiny, resistant and rigid figures, properties inherited by LW-PLA.
In addition to the characteristics described above, LW-PLA filament stands out for its ability to vary its volume and reduce its density by changing the temperature and flow of FDM/FFF 3D printing when extruded. Compared to a standard PLA, the figures obtained with this innovative filament can be cut, sanded and painted.
In this way, the user can print the same part several times by varying the printing flow and obtain parts that appear to be the same but have different masses.

Image 2: Piece printed with LW-PLA. Source: ColorFabb.
It should be noted that varying the print flow and increasing the temperature changes the colour of the material. By decreasing the print flow, the printed part gets a matt appearance. However, when printing with a higher print flow, the printed part gets a deeper and more intense colour.
Video 1: Presentation of LW-PLA . Source: ColorFabb.
Applications
With LW-PLA, the user can make areas with greater or lesser density in the same piece by varying the printing flow and the temperature (the weight reduction of the material is obtained from 230 ºC) without renouncing the strength of PLA and a good surface finish.
This material is ideal for applications where weight and strength are a prerequisite, for example in the drone or model aircraft sector. Users can develop and produce their own lightweight and strong components.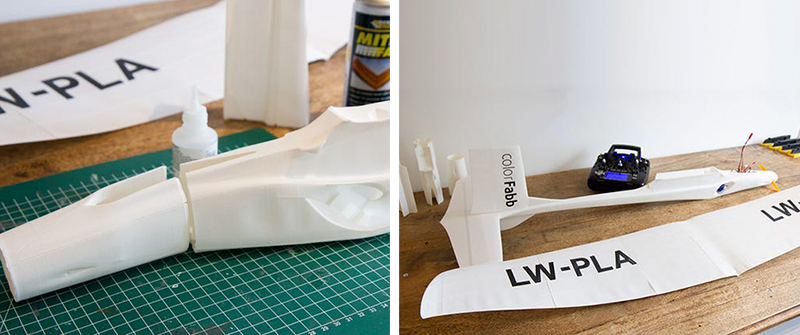 Image 3: Model aircraft printed with LW-PLA. Source: ColorFabb.
Among the applications that can be developed with this filament, the following stand out:
Aerodynamic wings or hulls for model aircraft.
Customised housings for storing the electronic components of drones.
Protections for drones in case of a fall.
LW-PLA has a high strength and a good surface finish that hides layer lines. In addition, this innovative PLA-based filament has the advantage of being able to vary the density depending on the printing flow and temperature.