Today it is possible to cut plastic with different tools, but the great problem existing until the appearance of the WonderCutter S ultrasonic cutter, was that none of them had been specifically designed to cut plastic.
WonderCutter S by Cutra cuts by means of ultrasonic vibrations sheets or plastic parts of a maximum thickness of 3-5mm "as if it were a piece of cheese". It is a powerful cutting tool that works up to 40,000 vibrations/second.
In addition to cutting plastic (For example: ABS, acrylic or polycarbonate), you can cut cardboard, chemical fiber, rubber, leather, formex, MDF and felt. One of the few materials that it is not able to cut are glass and metal (As well as some flexible plastic like the TPU).
The ultrasonic cutter manufactured by Cutra in the Republic of Korea, is able to cut these materials without practically making effort and with great precision.
Thanks to having a built-in rechargeable battery allows you to operate anywhere, whether you are on a table or fastened to your belt without relying on physical "ties" of any kind.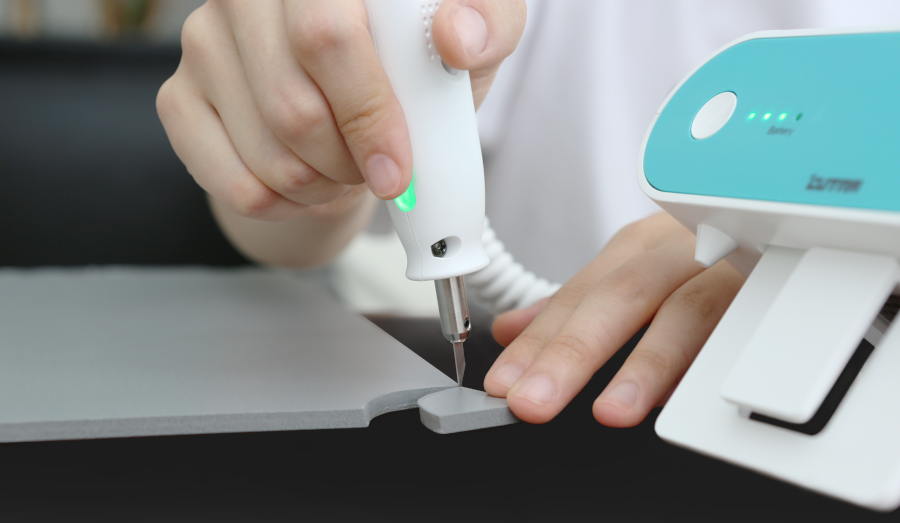 The concept of WonderCutter S was born in 2015 and has years of development and continuous improvement to reach the current final product. His system is patented and has been a success in his Kickstarter launch campaign. He has received the prize for best invention in recent years at various prestigious fairs of new inventions such as the fair in Genova, Seoul or Silicon Valley has become popular as the great cutting tool in 3D printing as well as in other areas. In addition, the ultra-sound cutter has RoHS certification, CE marking and FCC certification.
The main characteristics for which WonderCutter S is highlighted among users are the following:
Fast: Produces vibrations of 40,000 vibrations / sec, maximizing efficiency and minimizing heating. The tip of the blade applies constant pressure by its shape to the material that is cutting, so this allows cutting the material fairly quickly.
Precise: With WonderCutter S you can be an expert cutting all types of products accurately. All users who are accustomed to the use of cuters or precision manual blades are highly surprised with the precision of cutting that is achieved with WonderCutter S . It must be borne in mind that an important factor is the user's pulse, although sometimes industrial users design templates for guiding the handle (never the blade) to make specific cuts, although it is not recommended.
Easy to use: It is very easy and safe to use both if you place it on a table or if you wear it at the waist, since it has been designed to have portability and not depend on a fixed power supply, its weight is also only 750g. It has an integrated battery that can keep the WonderCutter S in operation in a range of between 1.5h and 3h depending on the type of resistance or hardness of the material cut. Another intrinsic advantage is that it is quite silent during use.
It presents a low power consumption with only 30W. In relation to safety, the use of WonderCutter S has a complexity similar to that of any basic cutting tool used in the home, however, for safety it is essential and mandatory to use it with nitrile rubber foam gloves that are incorporated.
Below are three examples of using WonderCutter S in different processes.
1. Use for supports of printed pieces in SLA or DLP and for panels:
2. Greater comfort compared to classic tools in different areas of application:
3. Cutting comparison of supports in flexible resin SLA, between traditional tool and WonderCutter S:
Official spare parts such as a blade ficture, extra blades, an extra charger or set screws are available for the WonderCutter S ultrasonic cutter.