Modifi3D is the finishing tool for 3D printing, specially designed to finish, repair and modify 3D parts at a low cost.
Modifi3D Original
It is lightweight, compact and easy to use. It is designed to replace much of the sanding, scraping and lace, or what is the same, to facilitate the post-processing of the pieces printed in 3D.
It is composed of 4 different interchangeable tips. These tips have a special coating to prevent the plastic from sticking.
Thanks to its USB 2.0 or 3.0 power it heats up quickly in less than 15 seconds and if it is more than 25 seconds inactive it automatically activates the sleep mode. The finishing tool for parts printed in 3D has a basic stand included and a touch switch as well as an indicator light.
Using the Modifi3D finishing tool is very simple.
Remove the protective cap and place MODIFI3D on the included metal bracket.
Connect the USB (USB 2.0 or 3.0 recommended)
Press the metal switch to start the heating. A red light indicates MODIFI3D is on. In less than 15 seconds it will reach 300 °C (572 °F) and will be ready for use. To increase the temperature or to reach the maximum of 420-450ºC (788-842ºF), it is necessary to continue pressing the metal switch until the required temperature is reached.
If MODIFI3D is not used for more than 25 seconds, it will enter sleep mode (the light will turn off and the tip will start to cool). To reactivate MODIFI3D simply press the switch gently and the heating process will re-start.
Always unplug USB if MODIFI3D is not being used.
Interchangeable tips make it easy to choose the right tool for the job.

Needle: Ideal for cleaning small holes or for detailed refinements of layers in hard-to-reach places.

Knife: For cutting and removing sections including removing racks and rafts from your 3D printing.

Spoon: Prefect to remove threads and imperfections from holes or interior recesses. Can also be used to mix surfaces.

General purpose tip to define internal details and make larger holes.
In case of needing the replacement of the interchangeable tips it is not necessary to buy a complete Modifi3D, thanks to the existence of the Modifi3D Tips Kit.
In the following review you can see the operation of MODIFI3D as well as all its details:
Modifi3D Pro
This is the evolution of the first post-processing tool designed specifically for 3D printing as the original Modifi3D had been. The Modifi3D Pro version incorporates more power, the possibility of better temperature control adjustment and 10 interchangeable tips for different uses.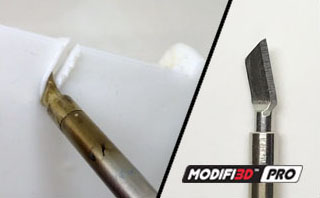 Knife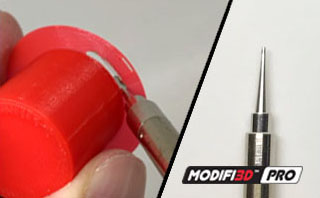 Needle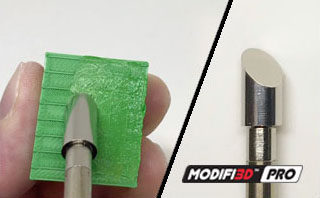 Smoothing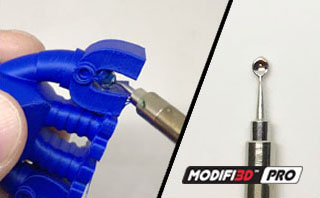 Scoop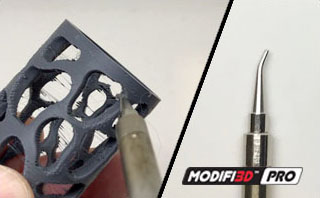 Detailing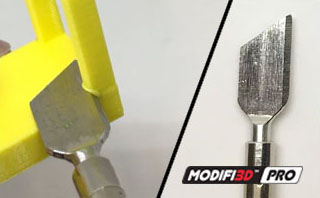 Blade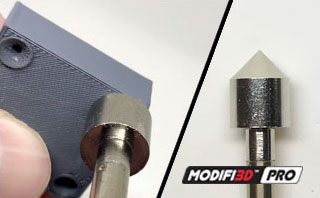 Countersink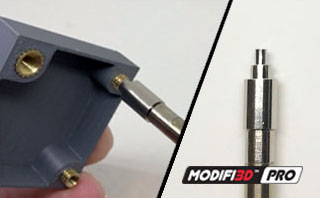 Insert setting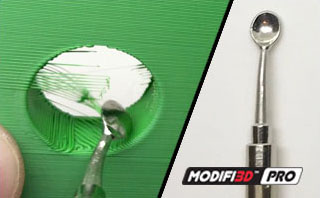 Large spoon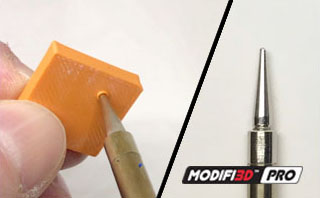 Point
Modifi3D Pro's interchangeable tips feature a special coating to prevent plastic from sticking during post-processing processes. In addition, it manages to heat the tips to more than 200 ºC in less than 25 seconds, reaching 450 ºC maximum temperature. This version will also incorporate an LCD display that allows you to adjust and control the temperature.
Another great novelty compared to its predecessor is that it connects directly to the DC current, without having to connect it to a USB port which for many users is a problem, avoiding the problem of having to check if the type of pu USB is valid or not to use the tool. We are therefore facing a series of innovations that give a greater professionalism of the tool for more intensive uses.
The two most outstanding tools included in Modifi3D Pro are the countersink and the tip for placing heat-threaded inserts. The possibility of placing inserts from M3 to M6 opens a great number of possibilities to this tool, since the placement of heat-threaded inserts to parts (especially in FDM) is allowing to expand the applications and functionalities of the printed parts in 3D.
Therefore, this is one of the definitive tools in post-processing of polymer 3D printing, allowing more than 10 functions and having the experienced background of the renowned manufacturer Steelmans3D.
Modifi3D Original vs Pro
Therefore, Steelmans' post-processing tool product portfolio is fully differentiated between Modifi3D Original for non-intensive or sporadic uses with the four basic tools, and Modifi3 Pro for extensive use variety of tips.
If you need the replacement of the interchangeable tips, both Modifi3D Original and Modifi3D Pro, you do not need to buy a complete Modifi3D, thanks to the Modifi3D Tip Kit.