In the world of 3D printing, when you want to make certain types of parts, you need to make threaded joints to make removable parts or ensure the permanent union of large volume parts. In these cases it is advisable to use metallic threaded inserts or bushings.
The two types of inserts used mostly in 3D printing are heat threaded inserts and self-tapping bushings or ensat type inserts.
Heat threaded inserts
These types of inserts are used with thermoplastic materials, which melt at low temperatures. The way of use is very simple and only requires having a heat welder or other heat source (Modifi3D Pro), which by contact by means of heat transmission cause heating of the brass insert (material with great heat transmission). The geometry of the knurling of these components is designed so that when the plastic melts from the walls of the hole, a resistant union is formed, which prevents it from coming out or turning on itself, even in environments with vibrations. With a correct collation of this type of inserts, a tensile strength of 15 Kg and a torsional strength of 2.5 Kg can be obtained.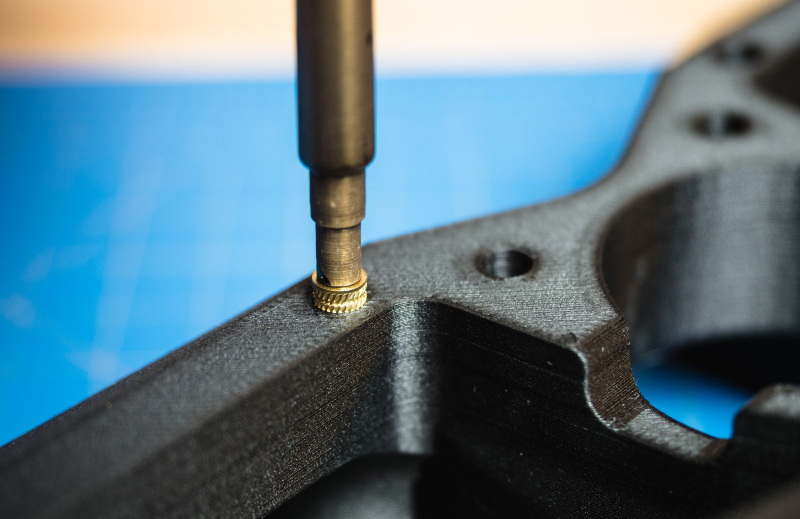 Image 1: Threaded insert placed by heat. Source: Markforged
These types of inserts are ideal for most parts and materials used in 3D printing of FDM technology, since ENSAT type self-tapping depending on the geometry may imply that you end up delaminating the layers when pressing the insert when threading it. In addition, the threaded inserts of heat have both open holes so they can be considered through, so that the length of the inserts will not be a limitation although the screw to be threaded must be introduced with a depth greater than the length of the insert itself.

Internal thread x Pitch
L 

± 0.1

E ± 0.1
D ± 0.1
H (Min. Depth)
C (Min. Diameter)
M3 x 0.5
5.75
4.62
3.88
6.5
3.99
M4 x 0.7
8.15
6.23
5.51
8.95
5.62
M5 x 0.8
9.52
7.02
6.3
10.3
6.4
M6 x 1
12.7
8.58
7.9
13.5
8
M8 x 1.5
12.7
10.1
9.5
9.6
Table 1: Heat threaded inserts, values ​​in mm.
Self-tapping bushings or inserts type ensat
Certain materials used in 3D SLS printing and resin melt at higher temperatures or do not behave stably when heated. In these cases it is recommended to use self-tapping threaded inserts type ensat. Self-tapping bushings type ensat feature a conical entry and a wide groove to provide a sharp function while screwing occurs. This allows these elements to be subjected to much larger stresses compared to heat inserts. In addition, this type of insert is made of stainless steel that offers great resistance to wear and aggressive environments.

| Internal thread x Pitch | E | P | B | T (Min. Depth) |
| --- | --- | --- | --- | --- |
| M4 x 0.7 | 6.5 | 0.75 | 8 | 10 |
| M5 x 0.8 | 8 | 1 | 10 | 13 |
| M6 x 1 | 10 | 1.5 | 14 | 17 |
| M8 x 1.5 | 12 | 1.5 | 15 | 18 |
Table 2: Self-tapping bushings or inserts type ensat, values in mm.
Its conical shape at the bottom end accompanied by a cutting groove, create the thread automatically in the hole. To introduce them it is recommended to use the tool for the placement of self-tapping inserts type ensat, a tool that facilitates and optimizes the process.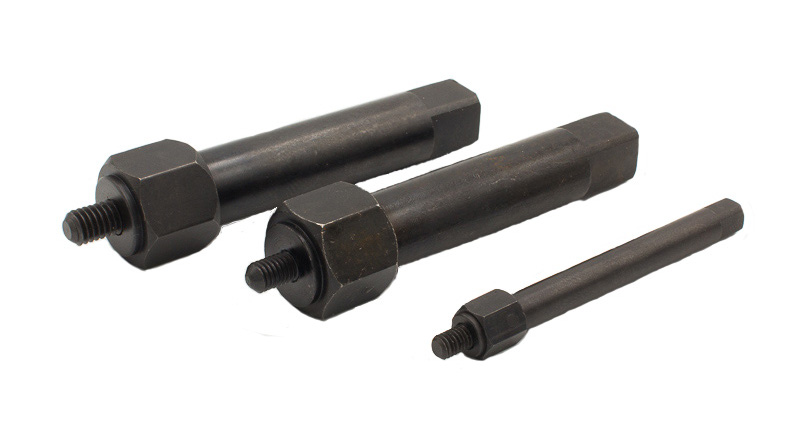 Image 2: Tools for ensat inserts.
Regardless of the type of insert, there are two key factors: resistance to extraction and resistance to rotation. The resistance to extraction is the opposition of the insert to leave its housing when the screw is tightened. This is a value that can be increased by increasing the length of the insert. The resistance to rotation is the opposition of the insert to turn on itself when tightening the screw. In this case the resistance increases with increasing hole diameter.