The PLA-90 PREMIUM Natural filament is a filament designed for all 3D printing users who wish to obtain advanced properties with a PLA filament. PLA-90 PREMIUM Natural is much less brittle than standard PLA and stands out for its high strength and stiffness. The main advantages of this filament are that it reduces shrinkage to a minimum and that the softening temperature is a little over 90ºC (hence its name).

The main advantages of this filament are minimizing the contraction and softening temperature is a bit higher than 90 °C (hence its name). The latter is the most prominent and well-known advantage of this filament. The standards PLA filaments having a softening temperature (Tg or glass point) of 55 °C; that is, once a piece printed with standard PLA, as is exposed to ambient temperatures of 55 °C decreases the glass temperature and happens to have visco elastic properties. (it starts to be "sticky" or slightly soft losing its mechanical properties).

This usually happens with printed parts PLA when exposed to ambient temperatures in hot weather (in excess of 55 °C), losing the desired properties. In contrast, the ABS has a Tg of 105 °C which makes parts printed with this material are resistant to room temperature, but in return the ABS is more difficult to print because it is necessary to have high temperature hot bed to avoid warping effect.

That is why the Natural PLA-90 PREMIUM emerges, which has a facility similar to printing and PLA also has a softening temperature similar to ABS (above the 90ºC, around 105 ºC). Properties that make it the ideal filament minimizing weaknesses and maximize the strengths of ABS and standard PLA.

Then in the next picture you can see a comparison between the ABS, standard PLA and PLA-90 PREMIUM Natural: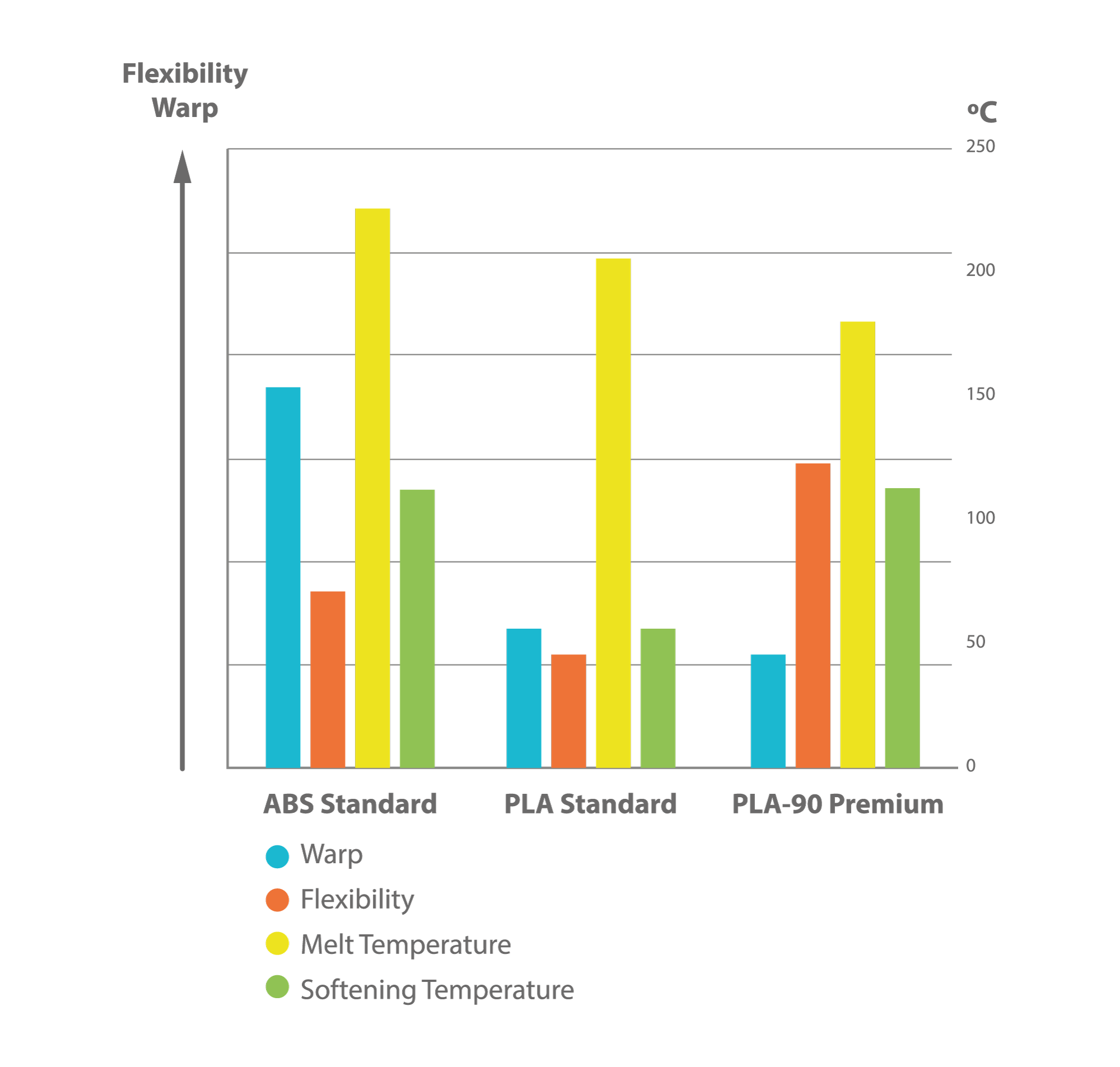 Properties of the filament PLA-90 PREMIUM for 3D printing