E3D nozzle package is presented in a metal case with 6 nozzles and a positioning wrench; all placed on a protective foam. Under this presentation, E3D offers two variants: Fun Pack and Pro Pack.
Fun Pack
The original E3D Fun Pack nozzle contains 6 brass nozzles of different output diameters for the version of HotEnd v6, compatible with V5. This variety of diameters offers the possibility of printing all kinds of models, from small prototypes that need a great quality, to others that press the speed to have smaller times of impression 3D.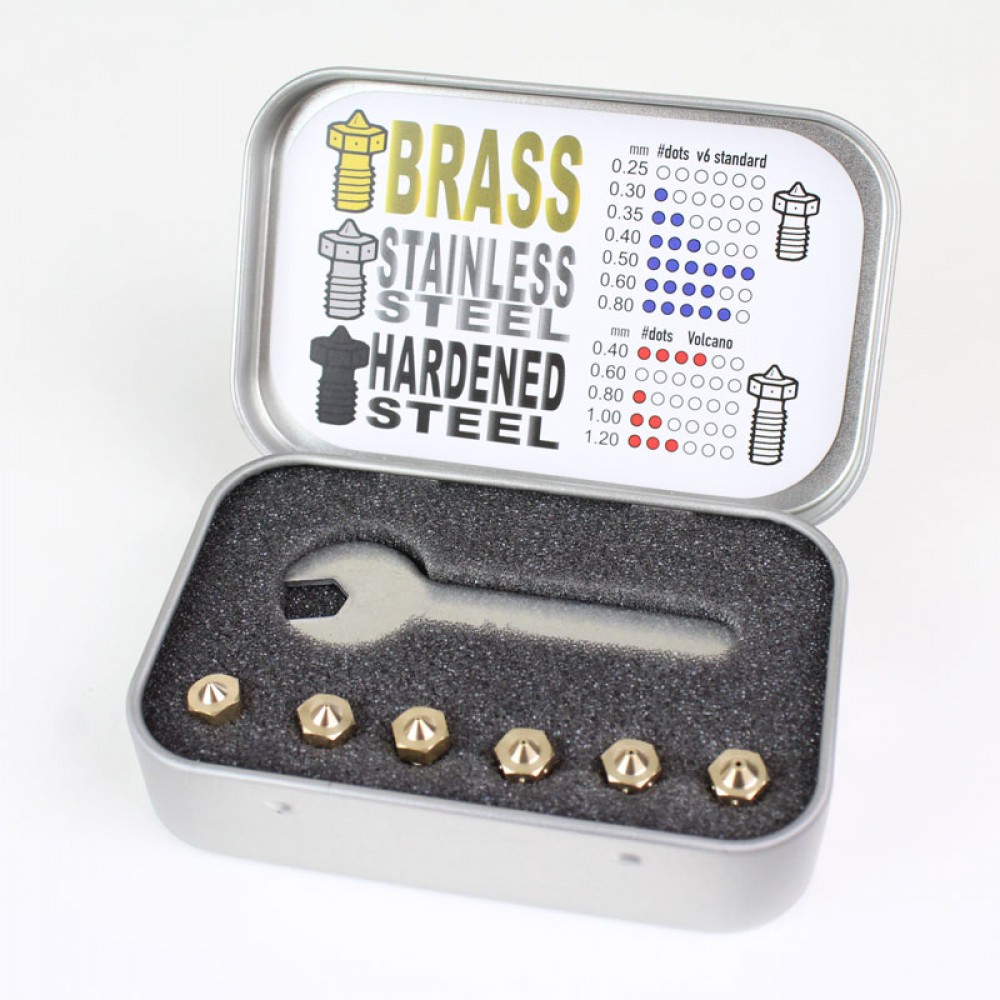 Image 1: Nozzle Fun Pack. Source: E3D
The 0.4 mm nozzle offers good stability between speed and quality, but there are cases where you are looking for something specific. For example, when printing small gears or small parts with thin or pointed parts, a nozzle of smaller diameter than usual (0.4 mm) is required to perfectly fill all the layers and there are no holes due to not being able to make a impression so fine. Conversely, when you want to make large pieces, where print times are long, a nozzle of 0.6 mm or 0.8 mm cuts that length and with a good enough finish.
Apart from the versatility of this pack, the E3D V6, which provides high printing temperatures (300°C) with high quality and pressure and a wide range of filaments, is well-known.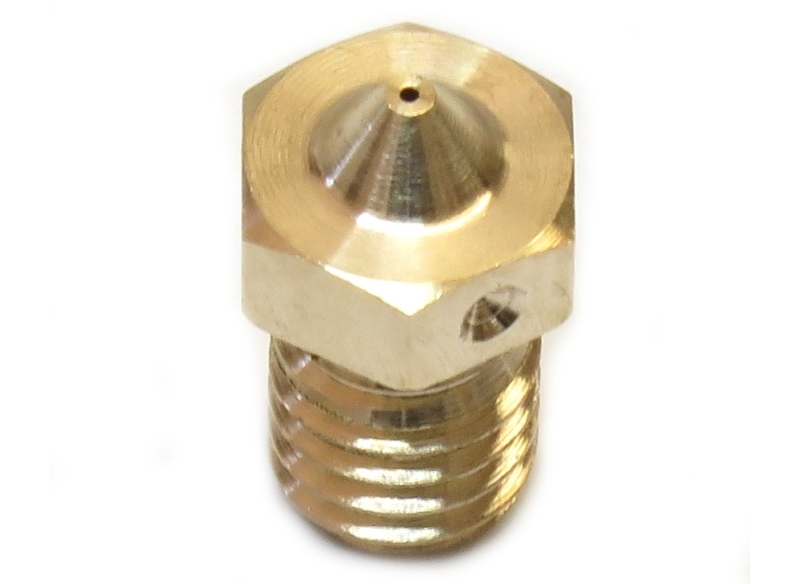 Image 2: Brass nozzle. Source: E3D
Pro Pack
In the E3D original nozzle pro pack we will find 6 nozzles of different materials and output diameters for the HotEnd V6 version. Available for inlet diameters of 1.75 mm or 2.85 mm. This pack includes a selection of some of the brand's most useful and experimental nozzles, allowing surprising results.

Image 3: Nozzles incluíded in PRO PACK
Among the brass nozzles, there is the 0.15 mm brass nozzle, recommended for experimental use. Perfect for printing very small pieces with high flow materials. This nozzle requires a lot of care in its use, but you can get very small prints with great precision in the details.
With the 0.8 mm brass nozzle, large layers, stronger parts and faster manufacturing are achieved. This nozzle is perfect for the manufacture of large parts, greatly reducing printing times and obtaining a good finish.
The 0.25 mm nickel-plated copper nozzle is made of high conductivity Copper with a non-stick nickel coating, which reduces plastic adhesion and increases the flow rate during printing. This allows us to print with great detail, being much easier to use than the 0.15 mm nozzle.
The 0.4mm nickel-plated copper nozzle has the "standard" size that is usually used when printing on FDM. Thanks to its coating, this nozzle is ideal in the use of materials such as TPU and PET-G, as well as polymers of extreme temperature.
The 0.4 mm hardened steel nozzle is very useful when printing with abrasive particles filaments, such as carbon fiber filament or metal PLA filament. Unlike brass nozzles, the hardened steel nozzle has almost infinite durability even with the use of this kind of filament.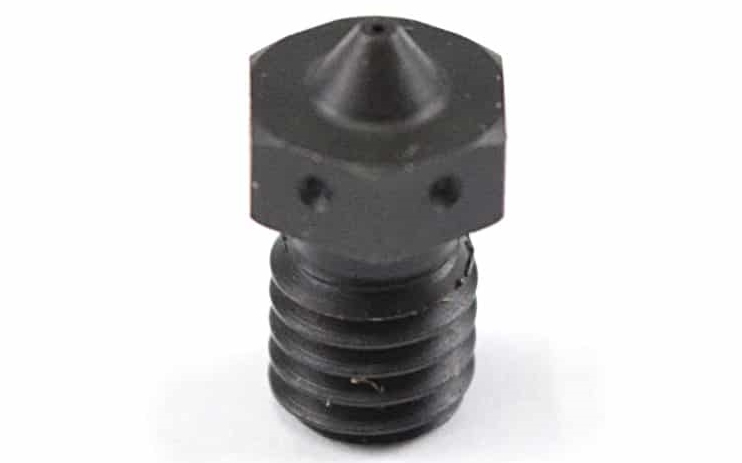 Image 4: Hardened steel nozzle.
The 0.6 mm hardened steel nozzle combines precision and speed. Perfect for the manufacture of medium or large size pieces, resulting in high strength parts in a short time.
Finally, we note that brass nozzles are for the use of conventional filaments such as PLA or ABS, but not for filaments containing fibers, since these produce great wear on these nozzles. For filaments containing fibers it is recommended to use hardened steel nozzles that supports many hours of wear-free printing or stainless steel nozzles if working with approved filaments for food contact (FDA).
If you want to know more about what type of nozzle to use with each material, you can read the following article: All about 3D printer nozzles.
To find out if the 3D printer extruder is compatible with the E3D Original nozzle you can read the following article: How to know if your extruder is compatible with an E3D v6 nozzle.