The original E3D Volcano HotEnd presents the perfect features for large, long-lasting 3D prints without losing finishing quality. In addition, it supports all E3D HotEnds except the Cyclops (compatible with HotEnd E3D v5 or v6), providing more work versatility to 3D printers.
The E3D Volcano is presented as a HotEnd that enables 3D impressions much faster than the E3D v6, with the same quality and precision. These qualities are conferred by the orientation of the thermistor cartridge with respect to the flow of the filament by the nozzle. In the original E3D v6 the thermistor cartridge is positioned perpendicular to the flow; However, in the original Volcano E3D, the position between the two elements is parallel. This distribution offers a warmth that covers more area and in a more uniform way allowing, therefore, a greater flow and speed of impression. As shown in the following graph, the use of the original Volcano E3D with a 0.8 mm nozzle presents a much shorter times than the original E3D v6. This data may lead one to think that, due to the increase in speed, 3D printing quality is lower. However, nothing further from reality, since through the Volcano E3D the final piece is much more resilient and solid. The only drawback that the E3D Volcano shows is the increase in the length of the entire HotEnd, about 8.5 mm, which reduces the printing area on the Z axis, although the loss of height is low compared to the reduction of print.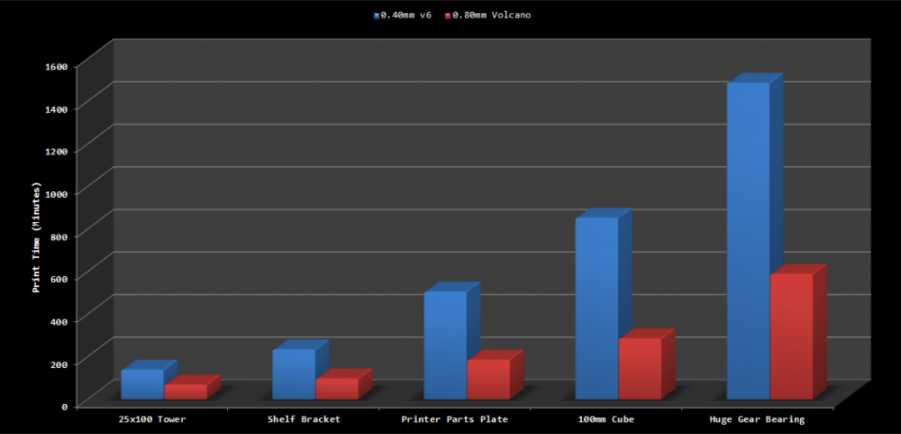 Image 1: Print time graph. Source: E3D
Great variety of nozzles
This HotEnd offers the possibility of being used by four measures of nozzle, which attributes to the E3D Volcano all the necessary qualities to print pieces of the size and precision that is required. With a 0.8 mm nozzle and a layer height of 0.6 mm an error of only +/- 0.1 mm is achieved, making it perfect for large parts in much less time, even half the time of other HotEnds.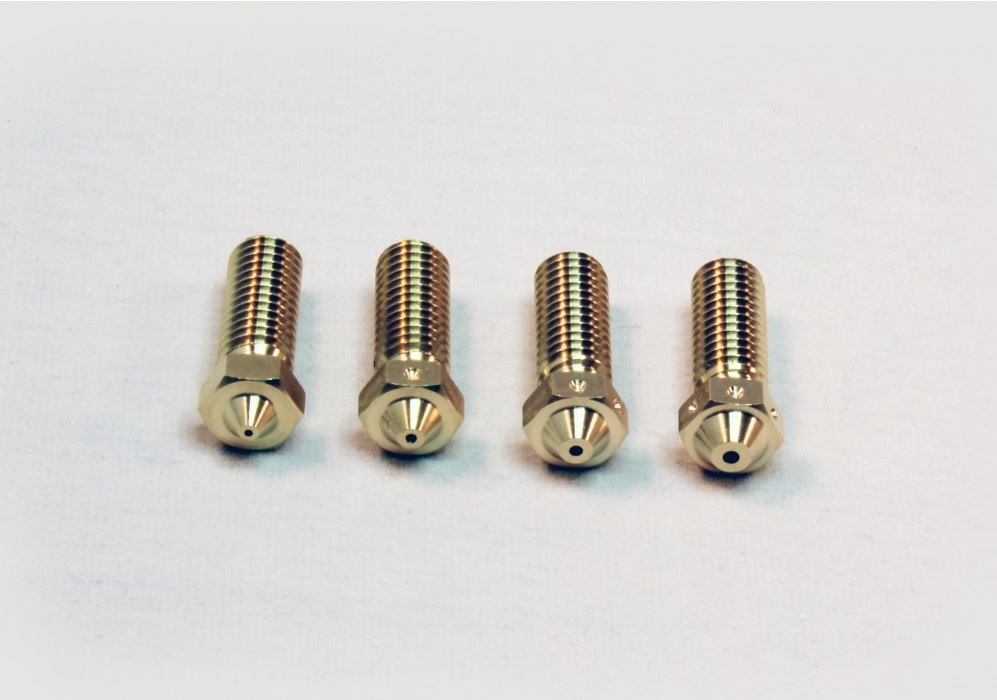 Image 2: Types of nozzles. Source: E3D
Good finish
As seen in the next piece, the finish is very good, smooth and with great brightness. Even when using a 0.8 mm nozzle with a layer height of 0.6 mm, you get a good result in terms of the quality of the properties of 3D parts, even if the size of the parts is reduced.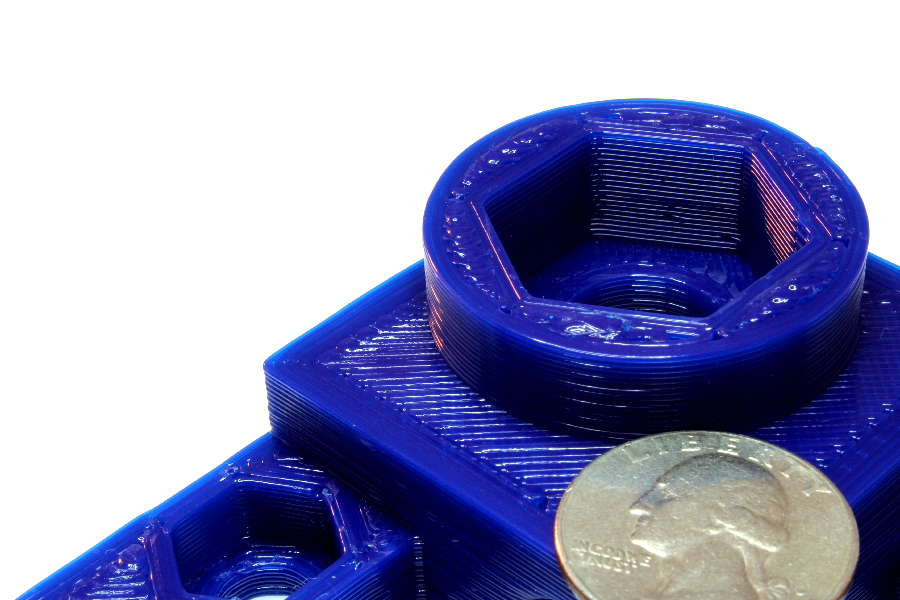 Image 3: Great print quality. Source: E3D
Vídeo 1: Advantages of the E3D Volcano HotEnd