The original E3D HotEnd v6 is not an update of the famous E3D HotEnd v5, but has been designed from scratch based on the experience E3D has in this type of components, which was another jump in the evolution of the HotEnd. The E3D v6 is versatile, so you can print different types of materials with a high quality.
Compared to E3D v5, it has been improved by reducing its z dimension (up to 62mm in some cases) by increasing the print distance on that axis and minimizing heat sink jam problems when using dense materials. The new design facilitates the installation of the HotEnd, being the holder of the thermistor much more precise and safe, because it incorporates a screw by the side of the block to avoid the use of the Kapton at the beginning of the cables, besides that already has the cables welded and covered by a glass sheath. In addition, the thermistor cartridge holder has been modified to prevent it from loosening with the extruder displacement, avoiding problems of temperature variation of the HotEnd (something that happened to the E3D v5) and moving the location of this closer to the nozzle, Perform better temperature control (variations of 0.5 ˚C or less) and rise from 20˚C to 200˚C in 65 seconds.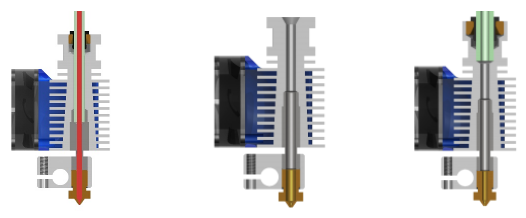 Image 1: Graphic HotEnd v6 Universal 1.75mm, Direct 3mm y Bowden 3mm. Source: E3D
HIGH PRINT TEMPERATURE
This model of HotEnd reaches 285˚C with the original thermistor cartridge, increasing up to 400 ˚C by means of an update that is available (requires additional electronics) giving the option of printing materials of large properties such as PEEK. In addition, the E3D v6 incorporates an internal PTFE coating (universal version) to prevent direct contact of the filament with the metal at high temperature, so that overheating and burns are avoided. Thanks to this, many materials can be printed, even those requiring higher temperature and precision, such as policarbonate or nylon.
PRINT GREAT VARIETY OF MATERIALS
Thanks to getting a high and precise conservation of the temperature in the nozzle you get uniform finishes and high quality; Even in soft and flexible materials such as FilaFlex, PLA Soft y FlexFill 98A, thanks to the incorporation of the PTFE tube inside.

Image 2: High precision printing. Source: E3D. Source: E3D
GREAT VARIETY OF NOZZLE
With the introduction of the E3D v6, a large number of nozzles of different diameter are added to the market. This variety of diameters allows from small prints in great detail finishing up larger parts faster; Even a 0.4mm nozzle is ideal for almost all kinds of uses. These nozzles always show a great balance between speed, manageability and high resolution printing. This is due to the special care that has taken E3D in designing both the interior and exterior, giving it much importance to look for the exact geometry for each diameter.

Image 3: Variety of nozzles. Source: E3D. Source: E3D