Conductive Flexible TPU (Thermoplastic Polyurethane) Filament 1.75mm is a highly flexible material developed by Graphene 3D Lab and is specifically designed to allow 3D printing of electronically conductive components using almost any available 3D printer FDM/FFF in the market.
This revolutionary Conductive Flexible TPU filament manufactured by the creators of the Graphene Conductive Filament for 3D printing offers two of the most coveted properties in 3D printing: Flexibility and conductivity.
Conductive Flexible TPU filament offers a volumetric resistivity of <1.25 Ω-cm (slightly more than double the Graphene Conductive filament itself which is 0.6 Ω-cm). Volume resistivity is the measure of the resistance of a material to electricity within one cubic centimeter of material. In order to determine if the material will fulfill the functions in your project, you will have to keep in mind that the resistance will change depending on your impression.
This flexible and conductive electricity material expands the capabilities of additive manufacturing or 3D printing and allows shorten the road from development to commercial application.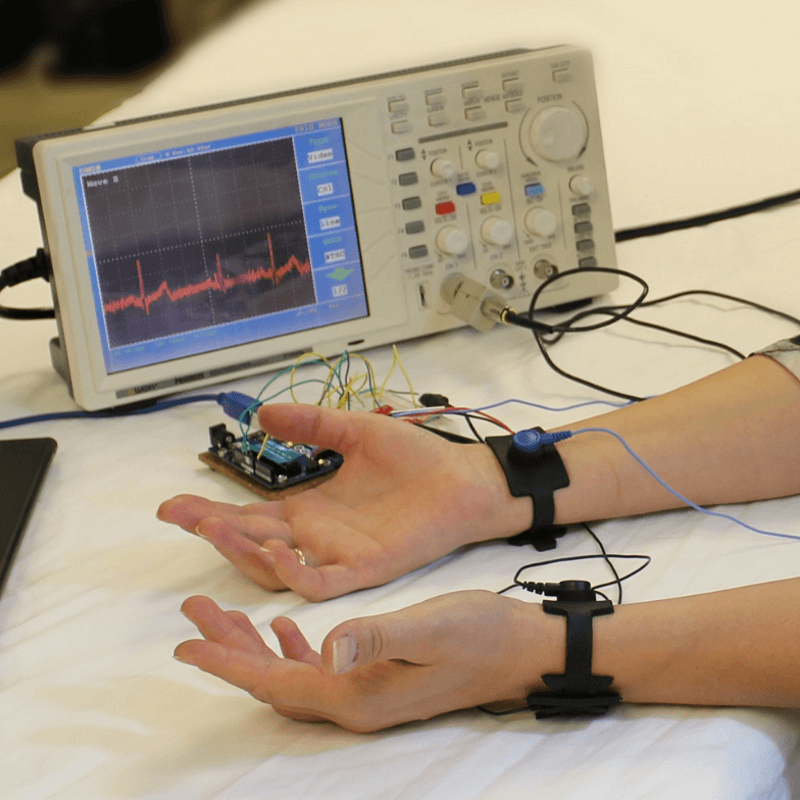 Image 1: Flexible Conductive Filament.
The main applications of the Flexible Conductive TPU filament are:
Flexible Conductive Traces and Electrodes
The main applications are in the creation of electrically conductive circuits used for flexible electronics. Some examples of projects are:
Computer interface, arduino and other components
LED Power Supply
Digital Keyboards, Trackpads
Pressure Sensitive Buttons
Wearable Electronics
Medical devices, electrodes for electrocardiogram (ECG or EKG)
Neural Surface Electrodes
Note:
In order to successfully use the Flexible Conductive TPU Filament in electronic applications, the electrical resistance of the circuit must be considered. Note that this filament is designed for low current applications.

Electromagnetic and radiofrequency shielding
The excellent conductivity and flexibility of the TPU 1.75mm Flexible Conductive Filament turns out to be a great solution in EMI shielding and RF (Radio Frequency Interference) shielding applications in a wide range of industries, such as:
Telecommunications
Hospital Equipment
Enclosures and packaging
Aerospace and Automotive
Shock-absorbent Padding
Driving belts and timing belts, flexibles tubes and connectors.

EMI / RF shielding is used to block the electromagnetic field and radiofrequency electromagnetic radiation within a space; It is important to use EMI and RF protection in a hospital, laboratory, or aerospace industry setting to protect against competitive signals, as they can lead to your own equipment giving false measurements.
EMI / RF shielding achieves this by blocking AM, FM, TV, emergency services, and cellular signals. Flexible Conductive TPU filament is ideal for designing RF / EMI shields used in highly customized elements.
The finish of the pieces made with the TPU Flexible Conductive filament have a matte black finish. As for the surface hardness is Shore 90A in printed parts and also have a higher stability against UV rays which makes it more suitable for outdoor applications.
Each Conductive Flexible TPU filament spool for 3D printer contains 100 grams of vacuum-packed filament with a desiccant bag. Once the spool is opened it is important not to store it in dusty or moist environments so that it doesn´t lose its properties.
It is advisable to use a hardened steel nozzle or Olsson Ruby since the carbon fiber is quite abrasive and wears the brass nozzles.