The XYZ da Vinci mini w + is a desktop 3D printer for beginners of 3D printing, especially for home or office environments. The ease of use stands out above all its qualities, since being able to connect via wifi network, any user can print parts from the same wireless network.

Its small size, but with an optimized print volume of 15x15x15cm, makes this small 3D printer perfectly fit in the environment and at the same time allows the printing of optimal parts.
One of the great barriers and fears of beginners in 3D printing is the adjustment, calibration and maintenance of 3D printers. In the case of the 3D printer XYZ da Vinci mini w + this is not a problem, because you can get perfect prints since the first time. This is because this printer uses XYZ's PLA or PETG material, so it is not necessary to be parameterizing the material. In addition, as it has its own XYZ Maker 3D software, printing is automatically adjusted. The user only has to worry about loading the 3D model and pressing to print.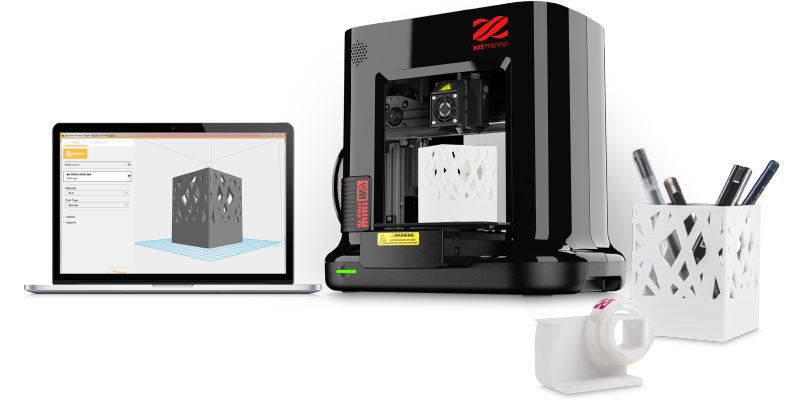 In terms of maintenance, it should be noted that the 3D printer XYZ da Vinci mini w + comes fully assembled and has an automatic leveling software, which simplifies configuration, calibration and maintenance to the maximum.
This 3D printer has WiFi, so you can connect wirelessly to your network to print easily. You only have to use the software and the 3D internal design application XYZ Maker and Maker Mobile, connect to your network and prepare the print files to finally get the desired pieces printed.
No less important is the security offered by this 3D printer, which satisfy all safety standards and, as it uses PLA biodegradable and free of DEHP, it is completely safe to use in closed environments such as home or offices.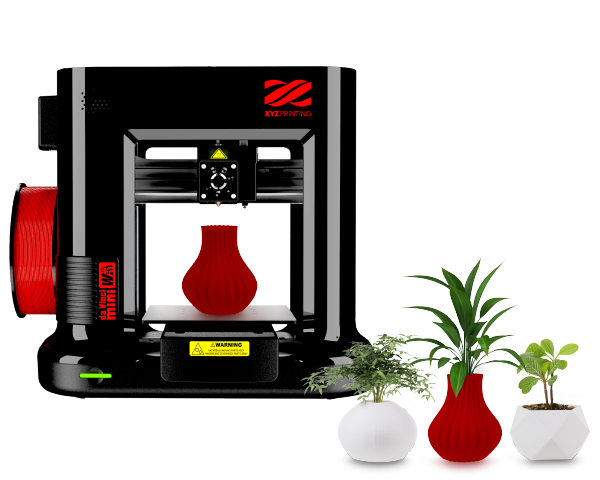 The 3D printer XYZ da Vinci mini w + is available with white or black color casing, according to the user's preferences to make it more suitable to the environment.
In relation to XYZ maker software you can obtain all the necessary information to learn how to use it through the tutorials available on the manufacturer's website.