The XYZ resins for 3D printing SLA technology have been developed for  Nobel 1.0 and Nobel 1.0.A printers, and allow to achieve high levels of detail and precision in dental models, jewelry, art or prototypes.
Available in 5 colors, this resin provides a wide range of applications and moderate rigidity, which makes it suitable for parts with functions mainly of design prototypes for engineering.
It must be taken into account that the gray resin is not compatible with the 3D printer Nobel 1.0.A and that the pieces printed with standard resin can be painted with spray later. The light color is about the translucent option and the white, blue, magenta and gray, of the opaque options.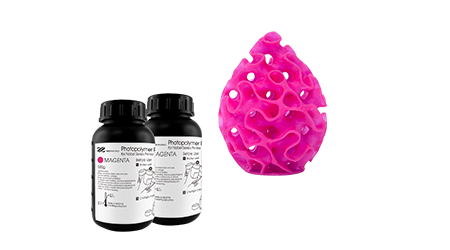 Installing the bottle of resin is really simple and is done in just three steps: You must replace the cap, insert the bottle into the 3D printer and finally connect the tube. The material, color, and remaining resin level will automatically be detected and the tank will be automatically filled.
The package includes 2 bottles of 500ml, so the total amount is 1 liter.
If an UV curing unit of XYZ is available, it is necessary to select the power level 3 and the curing time 10. It is important to store the resin at a temperature of between 10 and 32 ° C to avoid deterioration thereof. In addition, you must have different tanks for each type of resin (material / color) to avoid printing failures.