The UV curing chamber of XYZ stands out for its elegant design and is ideal for curing pieces printed in photosensitive resin in a non-professional domestic environment. It is compatible with the prints made on XYZ printing resin printers such as Nobel 1.0, Nobel 1.0.A y Nobel Superfine.
This camera emits ultraviolet light in a constant, concentrated and uniform way to quickly cure prints with photopolymer resins in 360º thanks to its rotating platform and an interior mirror. The subsequent curing process increases the hardness and strength of the resin printed parts.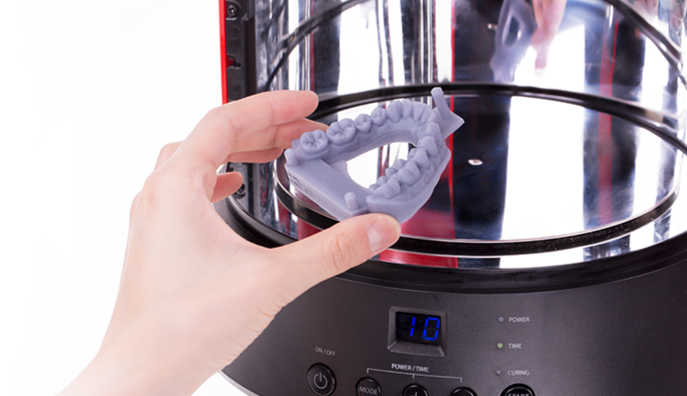 The maximum curing size can reach up to 180 mm in diameter by 200 mm in height. The XYZ curing chamber uses UV LED diodes that do not generate ozone, so it is respectful with the environment and also allows greater energy efficiency with respect to other solutions with mercury lamps. In addition, the lamp can last up to 10,000 hours guaranteeing a good experience for the user.
The UV curing chamber of XYZ printing has CE marking and is valid for working in a range of UV LED wavelengths of 375-405 nm. Not only is it compatible with XYZprinting resins (standard, flexible and moldable), but it can also be used to cure printed parts with the vast majority of third-party resins on the market.
For industrial or professional use, the curing chamber of Formlabs Form Cure, stands out, which, in addition to emitting UV light, allows the chamber to be heated up to 80ºC to accelerate the curing process.