In order to obtain 100 % metallic pieces with the metallic filaments of The Virtual Foundry, it is necessary to subject the pieces to a sintering process. This process seeks to eliminate the polymer (PLA) existing in the piece and fuse the metal without losing the original shape. This process requires an oven (open or vacuum / inert), refractory powder and crucible.
The crucible is a ceramic recipient in the form of a vessel where the piece to be sintered, covered with refractory dust, is introduced. It is manufactured with a mixture of graphite, silicon carbide and clay to offer the ideal properties for sintering: good thermal conductivity, high thermal resistance (up to 1600 ºC) and good resistance to thermal shock.
This crucible is compatible with all types of ovens (gas or electric) and to perform the sintering process or melting gold, silver, bronze and other non-ferrous metals. To meet the needs of each user, the crucible is available in different sizes, which conform to the standard measurements of each type and size of oven.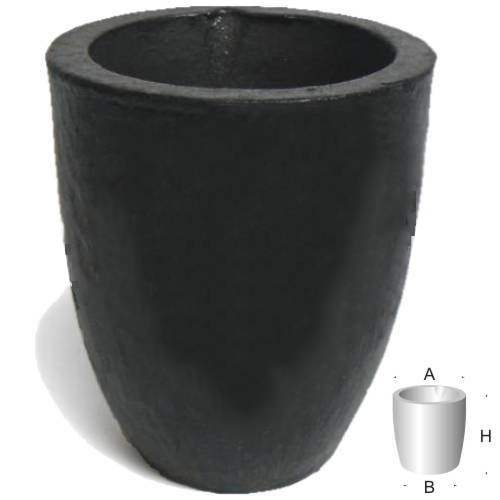 Model
Dimensions 
(A x H x B mm)
A0
60 x 67 x 41
A0.5
70 x 80 x 40
A1
79 x 97 x 55
A2
95 x 109 x 61
A3
105 x 127 x 70
A4
114 x 141 x 76
A6
130 x 165 x 95
A8
156 x 184 x 108
A12
171 x 210 x 121
The user who wishes to obtain 100 % metallic parts after printing a piece with Filamet™, should be clear that, not only does he need a crucible according to the size of his oven, but also the pieces he wishes to sinter. If you do not have an oven with the necessary properties to sinter the printed parts with the Filamet™ and get the final properties of the material, you can contact us and we will assess its viability through our collaborators with the capacity to perform the post-processing necessary to obtain the desired final result.