Modifi3D is the finishing tool for 3D printing, specially designed to finish, repair and modify 3D parts at a low cost.
The tip kit is available for both the Modifi3D Original version, with 4 tips, and for the Modifi3D Pro version, which contains 10 different tips.
Tip Kit for Modifi3D Original
The tip kit it's composed of 4 different interchangeable tips (needle, knife, scoop and tip). These tips have a special coating to prevent the plastic from sticking.
The Tip Kit for the Modifi3D is a spare created to exchange only the tips without having to buy a new Modifi3D tool once the initial tips have worn out, since like all tools, with use they present wear or can suffer a blow and break. It's advisable to have a Kit of tips to greater than the tips that includes the Modifi3D, to always be safe and not penalize time in the post-processing if any problem occurs with any of the Modifi3D tips.
Interchangeable tips make it easy to choose the right tool for the job.

Needle: Ideal for cleaning small holes or for detailed refinements of layers in hard-to-reach places.

Knife: For cutting and removing sections including removing racks and rafts from your 3D printing.

Scoop: Perfect to remove threads and imperfections from holes or interior recesses. Can also be used to mix surfaces.

General purpose tip to define internal details and make larger holes.
Tip Kid for Modifi3D Pro
The Modifi3D Pro Tip Kit contains spare parts for the 10 different tips available to the advanced version of the tool: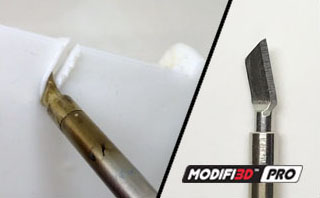 Knife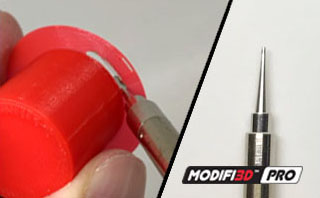 Needle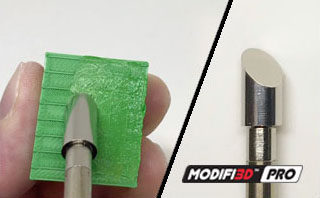 Smoothing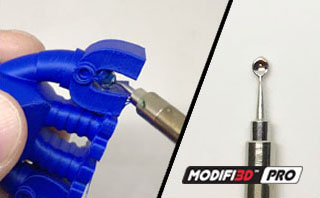 Scoop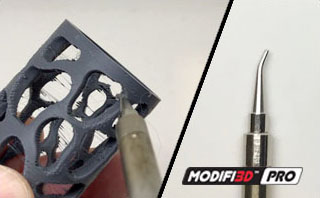 Detailing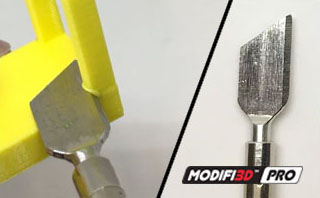 Blade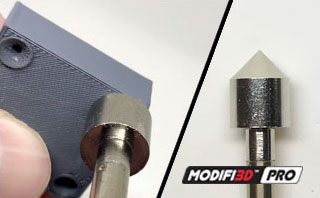 Countersink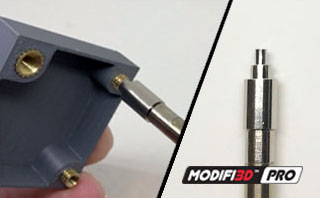 Insert setting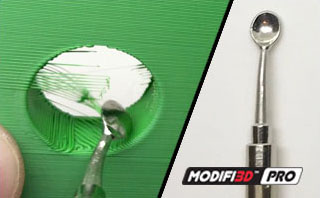 Large spoon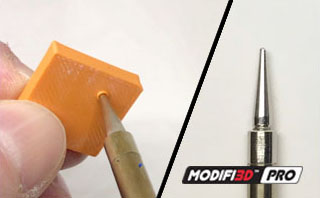 Point
Modifi3D Pro's interchangeable tips feature a special coating to prevent plastic from sticking during post-processing processes. In addition, it manages to heat the tips to more than 200 ºC in less than 25 seconds, reaching 450 ºC maximum temperature. This version will also incorporate an LCD display that allows you to adjust and control the temperature.