The castable resins of XYZ for 3D printing of SLA technology have been developed for the Nobel 1.0 and Nobel 1.0.A, printers, especially for fashion and jewelry applications. There are two different types of castable or castable resin (C1 and F1). 
With castable resins, every user (jeweler or designer) can make their creations directly from their 3D design. From CAD software you can print the desired design and within a few hours have a prototype to cast directly.
The two types of resin available to XYZ for your SLA printer are:
Castable / moldable  resin (C1)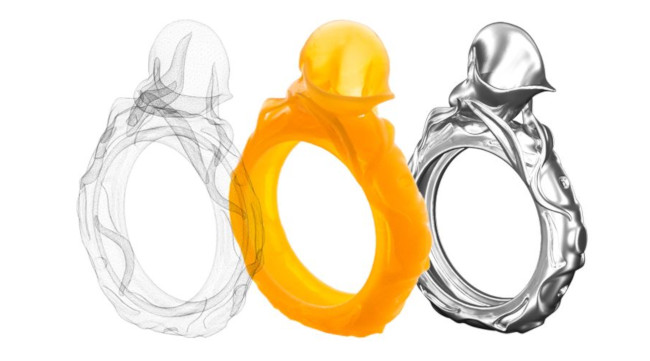 With this resin you can get pieces with high resolution finishes. Said pieces can be used directly for molding without having to superficially treat the piece previously. The casting process leaves no residue, which makes it an idea for the printing of fashion accessories. This resin is compatible with the 3D printer XYZ Nobel 1.0.A and is available in orange.
Castable / moldable resin (C1)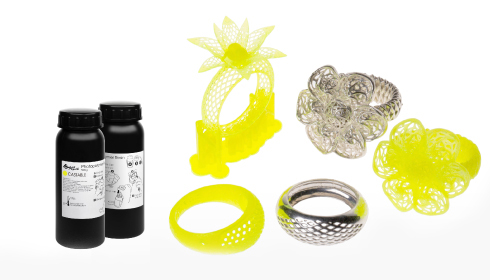 The moldable resin F1 employs guarantees perfect casting results, with a low coefficient of thermal expansion. The prints have a smooth surface and high print resolution , allowing you to create jewelry more efficiently. The combination of digital design and wax casting processes lost in 3D printing is the trend of jewelry, crafts and custom accessories. This resin is compatible with the 3D printer XYZ Nobel 1.0.A and Superfine and is available in yellow.
Installing the bottle of resin is really simple and is done in just three steps: You must replace the cap, insert the bottle into the 3D printer and finally connect the tube. The material, color, and remaining resin level will automatically be detected and the tank will be automatically filled.
The package includes 2 bottles of 500ml, so the total amount is 1 liter.
If you have an UV curing unit XYZ to perform the correct curing of the pieces once printed. It is important to store the resin with a temperature of between 10 and 32ºC to avoid deterioration of it. In addition, you must have different tanks for each type of resin (material / color) to avoid printing failures.