Filament2print ship to any international country. Shipping costs vary depending on order. Depend on four factors: weight, volume, shipping location and the amount of purchase.
Shipping. Terms.
Shipping costs are not included in the price of products, but are added during purchase and are itemized in the summary of it. Here are the different types of shipping are displayed according to country of destination.
Spain and Portugal (Peninsular Territory): Shipping costs are free for orders exceeding 79 € amount (excluding VAT), in this case the delivery will be made in the ASM24 or DPD mode. Still fulfilling the above condition, the shipping charges will not be free if you choose a different mode of delivery ASM24. The different delivery methods available are detailed.
Balearic Islands: Delivery time ranges from 48/72 hours. Delivery via ASM or DPD Group. (1)
Canary Islands, Ceuta and Melilla: The delivery time may vary between 2 and 5 days. Delivery via ASM or SEUR/DPD Group. The shipping mode to choose from in DPD Group can be air in 48H or maritime with an average transit of 5 days.(1) (4)
Countries within the European Union: Four modes of delivery are available through the 3 main European transport companies. GLS and DPD leaders in terrestrial transport in Europe and DHL leader in air transport.

EurobusinessParcel GLS (Land)

: This is the economic shipping for European countries. The delivery time can range from 2 to 5 days depending on the destination country.(1)(5)

DPD Group Europe (Land):

This is the economic delivery to European countries. The delivery time can vary between 2 and 5 days depending on the country of destination.(1)(5)

DPD Group Pickup:

 

Delivery at more than 25,000 convenience points throughout Europe. (1) (7).

Europe Express (Aereal):

 Shipment through the largest DHL express delivery company. The delivery time can vary from 24 hours to 5 days depending on the destination. See transits according to destination in the indicated points. (1)(6).

Rest of the world: The shipment is made through

DHL Express.

For shipments over 30 kg if you want to place an order to a non-European country you must contact through the contact form of our website to request a shipping quote. We can not offer closed shipping prices for any country in the world due to the multiple factors that cause tariff variability, so we must analyze each case in particular. Certain products are restricted to this type of air shipping due to the flammability itself. (1) (4) (6).
(1) Shipments are made on the same day if the order has been received payment before 16:00h (UTC +1:00,A) on the same day. If payment is made after that time, the shipment will be made the next business day in the event of receiving payment (business days from Monday to Friday). Remember that if you choose to pay by bank transfer, you should know that the delivery will begin immediately after receiving confirmation of payment from our bank.
(2) This option is only valid for populations less than 20Km of a delegation of ASM. If you select this shipping method for a population which is more than 20Km shipment will be made by ASM14 shipping mode, so you receive the package before 14:00.
(3) In the case of shipments to mainland Portugal the deadline can be extended to 48 hours depending on the target population.
(4) Shipping costs don´t include in any case the custom fees (if any) existing in shipments outside the European Union. These expenses are variable, depend on each country destination, and you must pay them on arrival (only if necessary). Consult your customs agency for these expenses. If a package is stopped at customs, it will be buyer's responsibility to pay few taxes and fees tariff applied to the package. Filament2print not responsible for the cost of customs or delay that could lead them to the package delivery. The customer may not return your order for this cause, except for an error committed by Filament2print.
(5) The estimated transits for terrestrial shipments to Europe by both GLS and DPD Group are as follows:
2-3 days -> Germany, France.
3-4 days -> Austria, Belgium, Netherlands, Italy, Luxembourg, United Kingdom.
4-5 days -> Denmark, Slovakia, Slovenia, Finland, Ireland, Czech Republic, Romania.
5-6 days -> Bulgaria, Croatia, Estonia, Greece, Latvia, Lithuania, Sweden, Poland, Norway, Hungary.
6-10 days -> Bosnia, Serbia.
(6) Estimated DHL Express (Aereal) delivery transits to major world capitals are as shown below.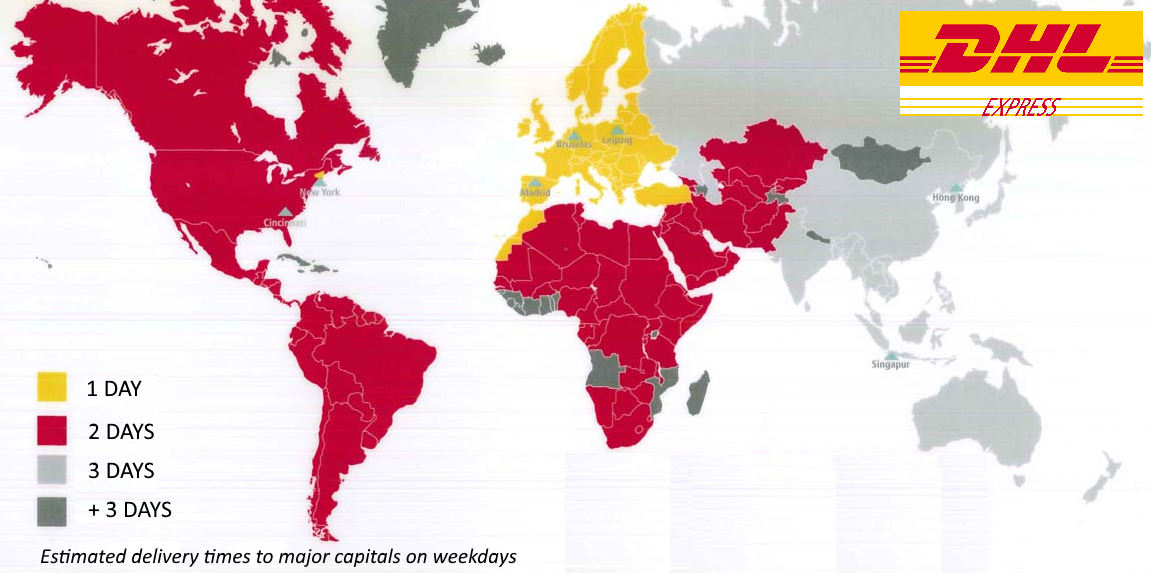 (7) When an order is issued to a DPD pickup (convenience point) or a GLS parcelshop the buyer will have 5 business days to pick it up. In case we do not happen to pick up the package in that period, the package will be returned to us and the recipient in case of wanting a new delivery must run with the expenses to be greater that will be generated by the new shipment from our facilities.
As to changes in delivery address; due to fast delivery time, if the order has been issued should be contacted directly with the transportation agency by providing the tracking number for management in the case of being on time.
All times mentioned, with respect to processing, shipments and deliveries are just a reference to be taken into account as such, may vary depending on the workload of the logistics warehouse, incidents occurring in logistics or transport or due to force majeure.
The recipient will be required to examine immediately if the shipment is damaged and if it is complete. Damage that may have occurred during transport and can not be examined externally, we shall be communicated in writing within 24 working hours from receipt of order. If at the time of delivery is visible and clear, without having to manipulate the packaging that is visibly in poor condition must be recorded in the delivery note that the carrier shall provide as proof of delivery and will be assigned automatically an incident number from the shipping company. If it is not possible to claim any impact to the transport undertaking deterioration of the goods during shipment afterwards.