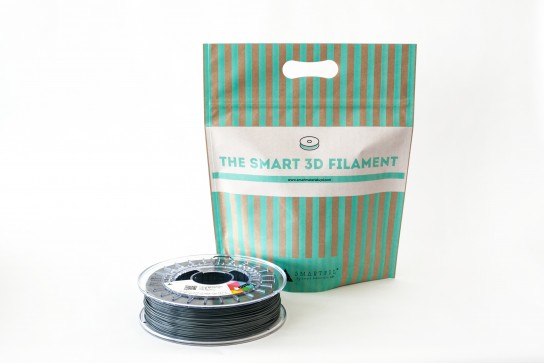 We have incorporated new quality materials for 3D printing from Smart Materials 3D, known as Smartfil. This Spanish company develops and manufactures high quality filaments for years and continues to make a strong commitment to R&D on a continuous basis by constantly offering new 3D printing filaments.
The new filaments incorporated into our online store deal with more than twenty-five filament references grouped into twelve filament categories. Below we detail the main characteristics of each type of filament.
PLA SMARTFIL:

 It is manufactured with PLA of high quality, without recycled material and totally stabilized with a variability in diameter of ± 0.03 mm that does not produce warping and with which an excellent resolution is obtained in the 3D print. This allows printing at a faster print speed than with other standard PLA filaments to obtain a better surface finish.
ABS SMARTFIL: It is a filament ABS additive effect to reduce warping and cracking effect. It is much easier to print than other standard ABS since it is only necessary to have a bed temperature of 60 °C compared to 80-110 ° C of standard ABS.
HiPS: It is a thermoplastic obtained by polymerization of high resistance to the impact a 20% more resistant to the impact that the own ABS, with a greater flexibility and a warping smaller. They highlight several of its characteristics as the solubility in D-Limonene, its resistance to oils, fats and alkalis and its good electrical insulation.
PLA 3D850: It has been designed from biodegradable resin from the "Ingeo ™ PLA3D850" formulation of the prestigious 3D printing application company NatureWorks. This filament has a very low thermal contraction, so it is ideal for printing high resolution parts and also with better mechanical and thermal properties than a normal PLA. It also stands out due to its high crystallization speed, which is why it is possible to increase the printing speed with respect to other materials by more than 50%.
PETG:

 Unlike PET filaments, it does not crystallize when heated, so it presents a great hardness and flexibility besides its already known chemical resistance and its transparency. It is a good alternative to any ABS or Nylon that has a 91% transparency in the natural state.
E.P.

:

 It has a surface finish similar to that of limestone and stands out because it is very easy to machining, polishing, sanding and painting so that you can get excellent surface finishes. Ideal for those users of 3D printing that are dedicated to sectors of craftsmanship, architecture, deontology, maquette, etc.
PP: The parts printed with this filament offer flexibility, excellent mechanical and chemical resistance, as well as excellent flexural strength which make it ideal for a large number of industrial applications. It also offers a good vapor barrier and has a good processability since it is the plastic material with lower specific gravity.
ABS FIREPROOF: It is a fireproof material tested according to the UL94 standard ideal for the coating of elements that can be a fire source. It is an ABS additive to delay the propagation of the fire and finish it extinguishing without producing plastic drip.

 
ABS H.I: It is an improvement of the ABS Smartfil oriented to obtain an ABS still more resistant to the impact reason why the ABS H.I. Smartfil is 40% stronger than ABS Smartfil itself.
SUPPORT: It is a HiPS (polystyrene) specially designed to obtain better properties as a support material. Unlike the HiPS without adding this SUPPORT material has no warping effect, it dissolves in D-Limonene much faster and is also compatible with a greater variety of materials.
NYLONSTRONG: This nylon filament is a very hard polyamide 6, ideal for industrial applications where high mechanical, impact resistance or high temperature (up to 210ºC) properties are required.
SMART CLEAN: This filament removes residual material remaining within the extruder.