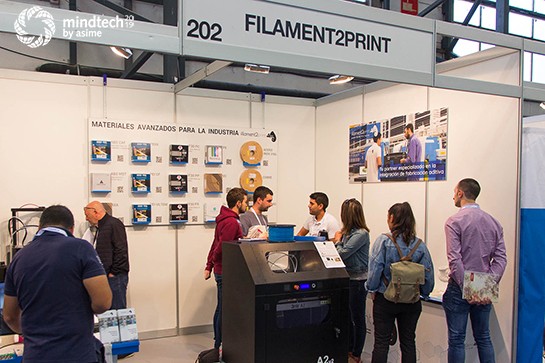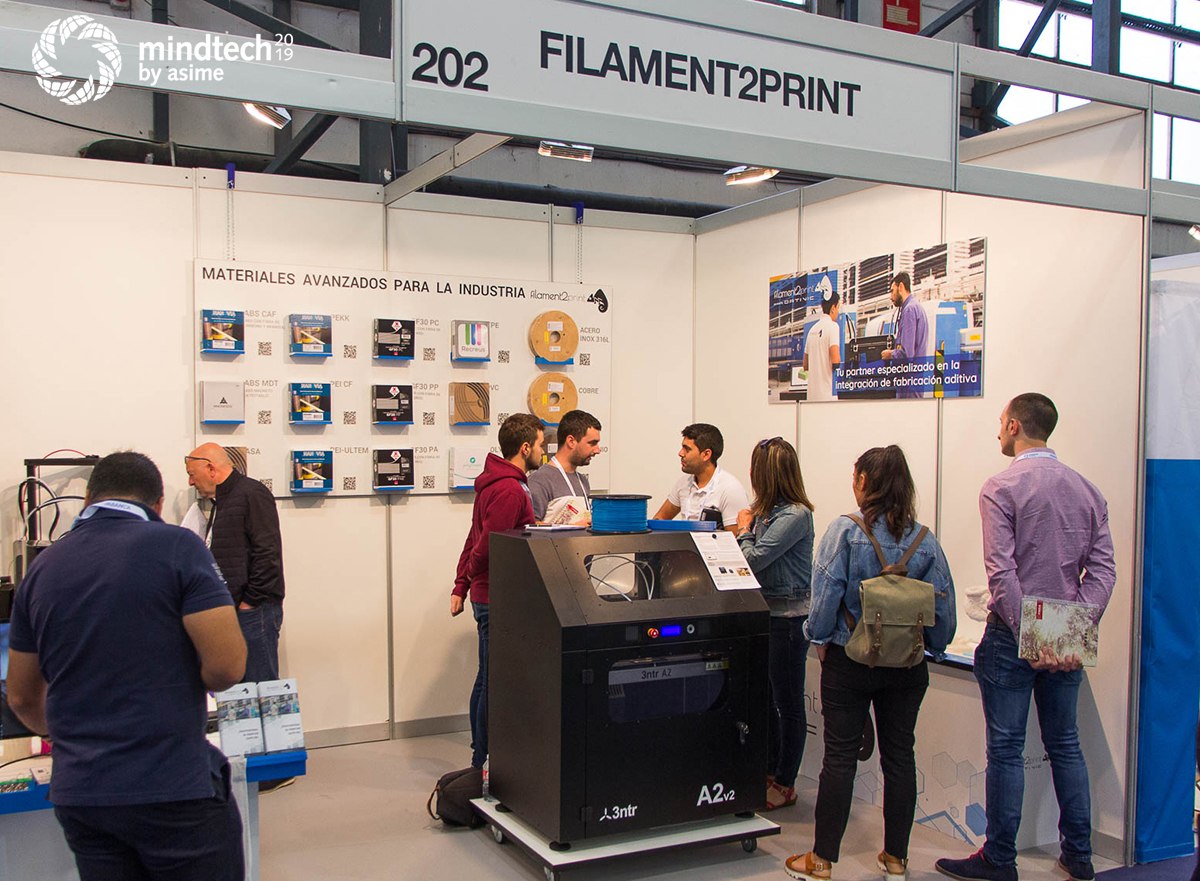 During September 10, 11 and 12, Filament2print was present at stand 202 at the international Mindtech fair, a benchmark in the industrial sector of the Iberian Pole, sharing a pavilion with other leading companies in the industrial sector both nationally and internationally, and which has received more than 21,000 visitors during the 3 days.
Filament2print has performed a staging divided into three main focuses. First, the main novelties of the wide variety of advanced materials for the industry available in our catalog have been shown. Secondly, 3D printing equipment, from semi-professional range to industrial equipment. And finally, the services offered by Dativic for the enhancement of the integration of additive manufacturing in industrial companies.
The news regarding products that we have presented at the Mindtech 2019 fair can be summarized below:
1. XSTRAND hard and resistant advanced composites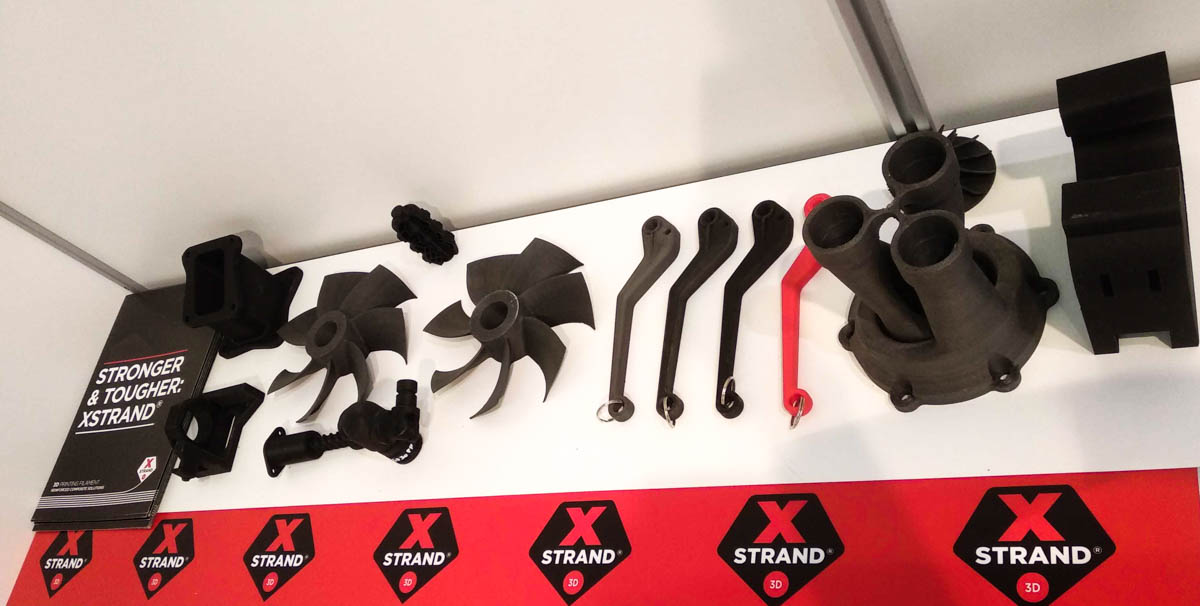 The 3 composites of PP-GF30 (Polypropylene with 30% fiberglass), PA-GF30 (Polyamide with 30% fiberglass) and PC-GF30 (Polycarbonate with 30% fiberglass) have allowed to show the large resistance and hardness of these three materials, which open a wide range of possibilities in the industrial sector allowing functional parts to be made from a 3D printer of FDM technology. With really visual parts, at a practical level it has been possible to demonstrate the hardness of the three composites compared to a standard ABS on a motorcycle handle.
2. 3D printers for all types of applications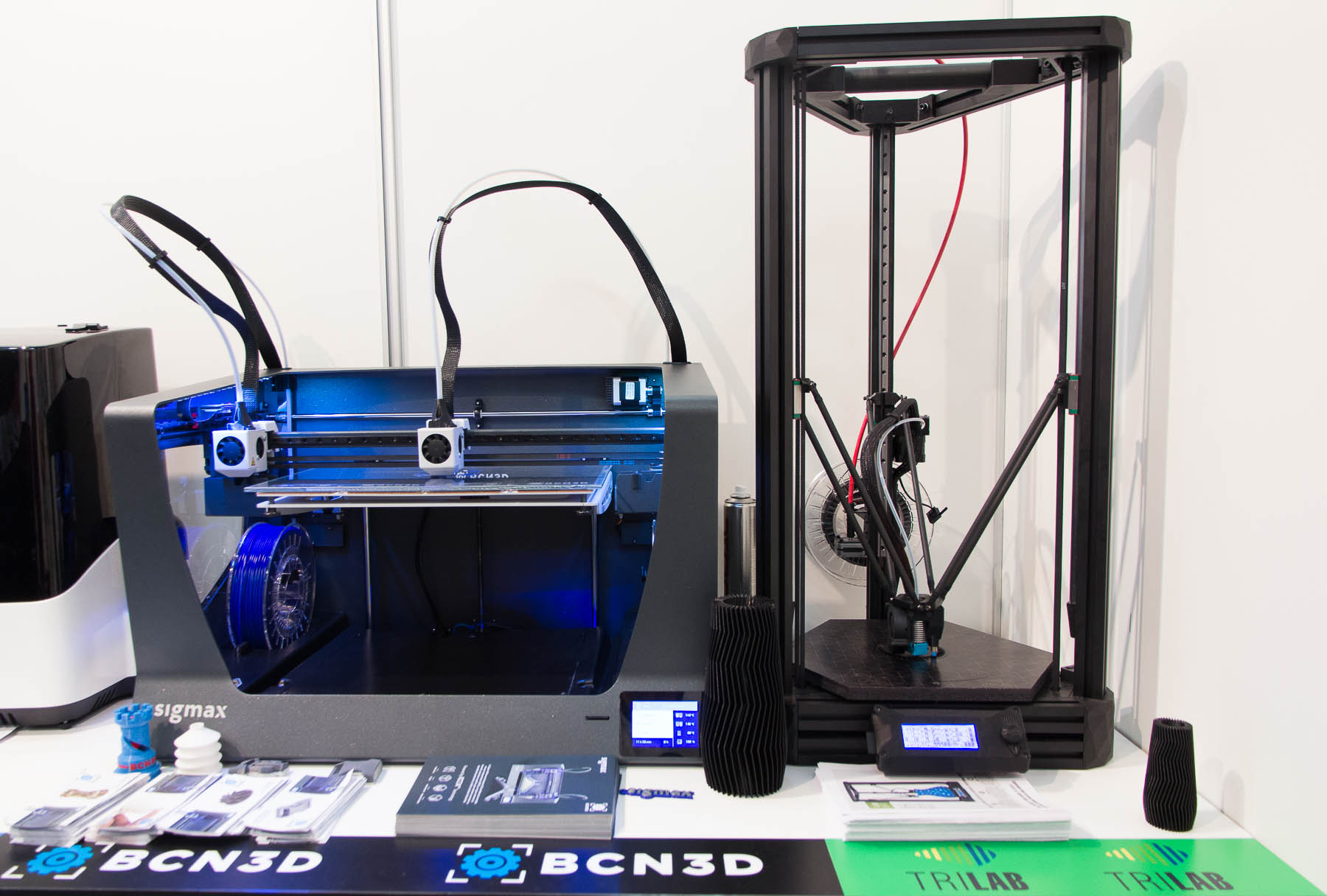 As for 3D manufacturing equipment, on the one hand, the options in semi-professional FDM technology equipment have been shown with the presence of an independent double extruder SigmaX BCN with Cartesian structure, and a delta-type Trilab DeltiQ 3D printer.
On the other hand, the 3NTR A2 for large volume printing with advanced materials by having a temperature controlled camera has been the industrial equipment that has caused the most sensation among visitors. Additionally, with the presence of a 3D resin printer such as Uniz Slash, the incredible resolutions reached by this printer have been shown, and also in record times.
3. 3D printing of all metal parts
The 3D printing with FDM technology of metal parts has caused a great among all the visitors of the hand of The Virtual Foundry filaments.
Among other applications, we have shown printed and sintered copper parts, although they are also available in 316L stainless steel, bronze, tungsten, carbon steel and 6061 aluminum.
Metal is, therefore, a reality in 3D FDM printing and has caused industrial sensations and potential applications in different industrial fields of application.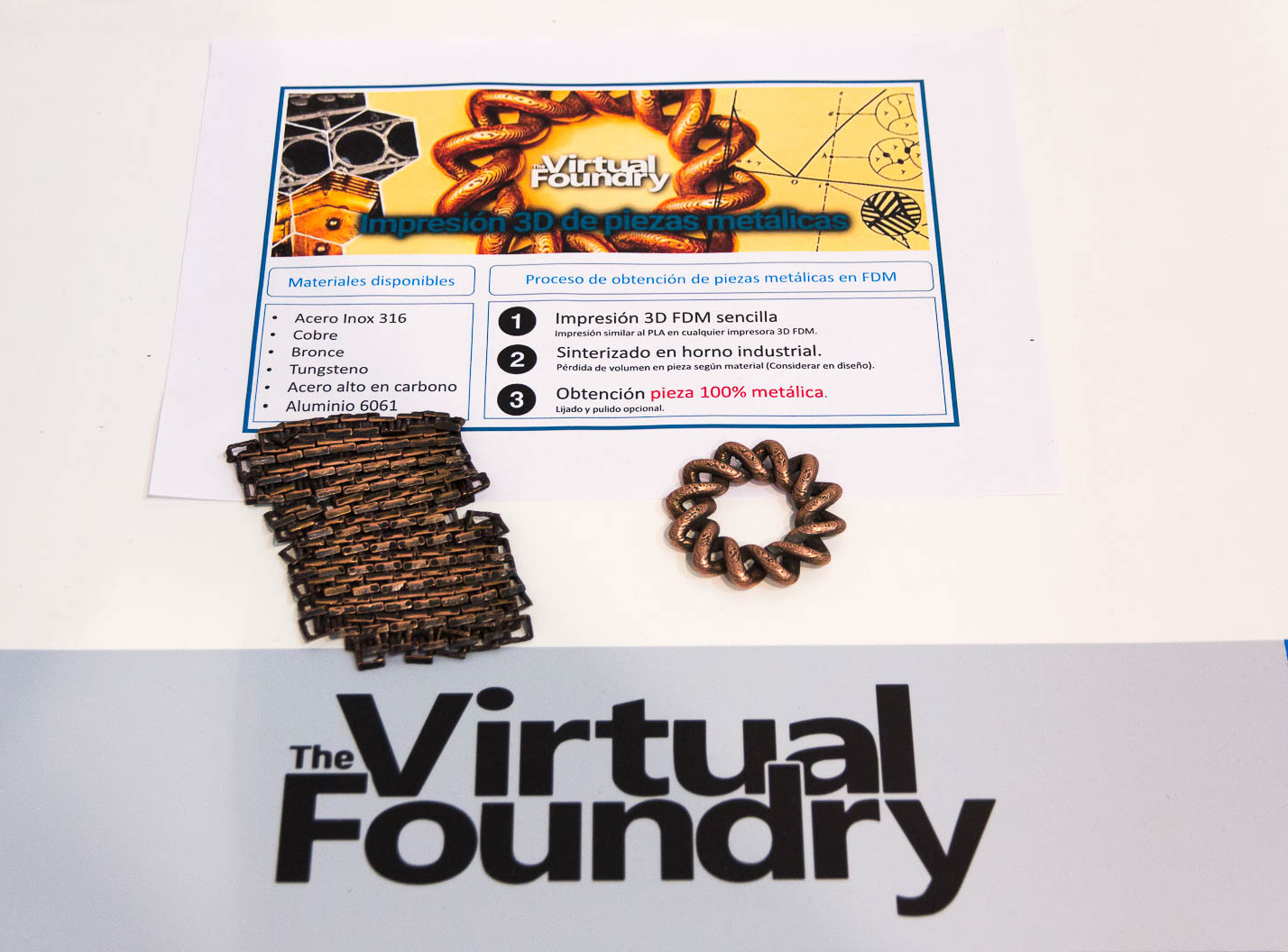 4. Lost wax casting in 3D printing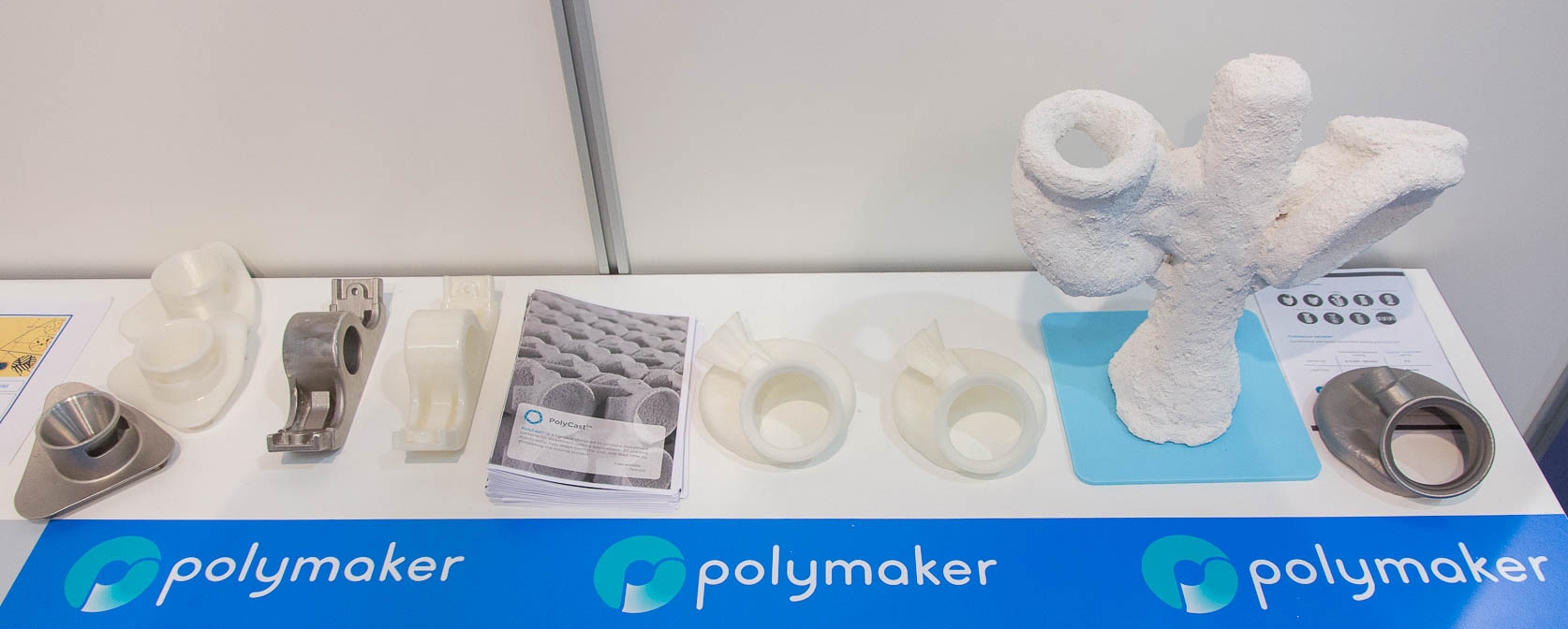 To continue showing metallic applications starting from 3D FDM printing, we have shown in detail the process of lost wax casting starting from a pattern, printed with Polymaker Polycast filament, of complex geometry pieces.
The drastic reduction of time and cost of production means that the hybridization of different technologies and manufacturing processes are being rethought in order to become more competitive in an increasingly demanding industrial world.
5. New filaments of Fillamentum
Other advanced materials that we have been able to present by Fillamentum have been the new polypropylene, PVC and flexible filaments.
Fillamentum has been able to develop in a pioneering way a PVC filament whose field of application in the sector is immense. By combining the benefits of PVC material with the possibilities of additive manufacturing technology, it has been possible to show the wide range of this material.
In addition, in the field of flexible materials we have presented the different materials according to their flexibility, which has allowed them to bring their potential closer to endless applications in many industrial applications.
On the other hand, the development of the new polypropylene filaments has enormous potential because it is a highly demanded material, especially due to its high resistance to abrasion and its lightness (available soon, they could be seen exclusively before its launch in our stand).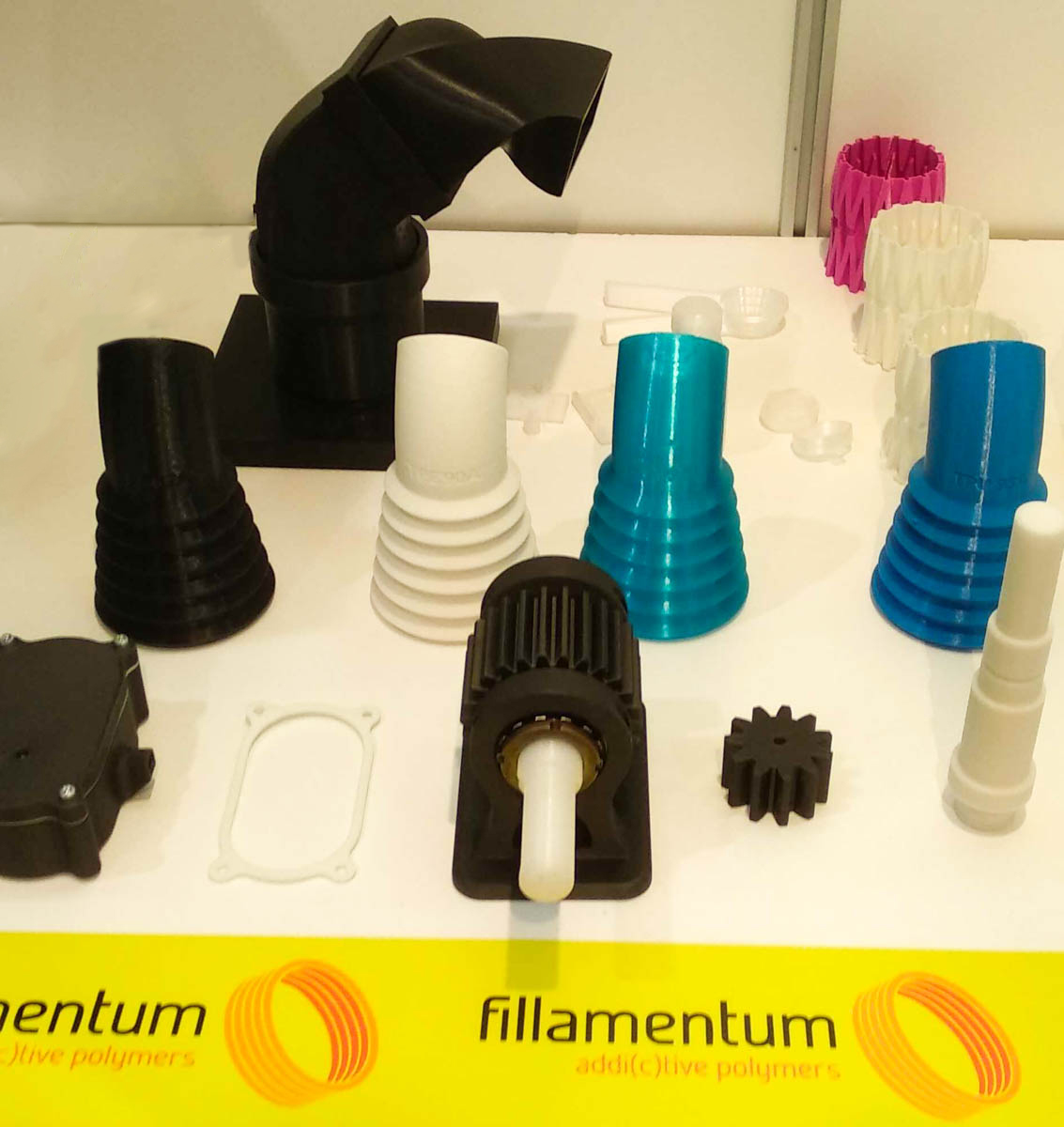 During the three days, part of our team has been serving the visitors who have come to see us at Mindtech, and we can only wait for our part that our stand, as well as the novelties presented, have been attractive and interesting for all visitors. We also want to take this opportunity to thank Asime for the great work of organizing the event and, without a doubt, we started the countdown again to see each other at Mindtech 2021.